Twitter is testing a new feature in its mobile app that shows 'News' tab in its mobile app. Several reports on the Internet claim that select Twitter users in the US can see a new section in their mobile apps dubbed 'News', and Twitter has confirmed the experiment.
As reported by BuzzFeed, the new Twitter feature includes a list of trending news stories along with their headlines. On tapping the headline of the news story, a dedicated screen for the article opens up, showing the news story with an image and also the top tweet section below the story.
A Twitter spokesperson in a statement told BuzzFeed, "We're experimenting with a news experience on iOS and Android as we continue to explore new ways to surface the best content to users."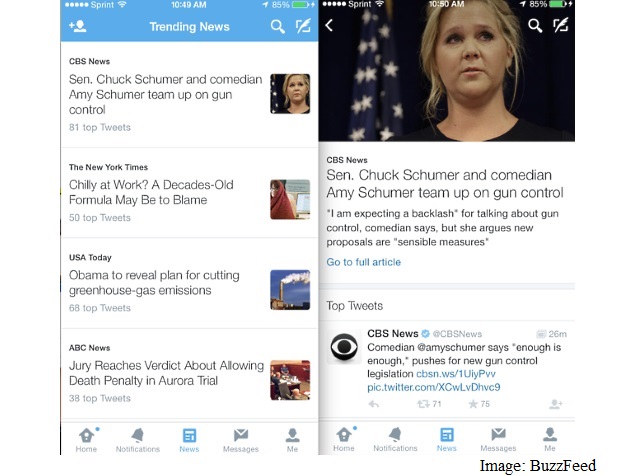 Considering that the 'News' tab feature is currently in its testing phase, we can expect that it might take some time before the option is visible to everyone on the micro-blogging website - if the company decides to roll out the feature globally.
The News tab feature showing up in mobile Twitter apps shares a lot of similarities with the company's recently rolled out 'Tailored Trends' that replaced the previously available Discover Tab feature. The Tailored Trends feature is visible under the Search button in the app and besides showing Twitter trends also gives a short description of each topic.
The new 'News' tab feature appears to be a part of the micro-blogging website's bigger plans under Project Lightning. The details about the yet-to-be-announced Project Lightning were reported in June. Twitter is said to start curating tweets on live events in an attempt to make the platform more user friendly for real-time news feeds.
Project Lightning will reportedly allow users to follow events instead of just people and even allow uploading images and videos that can be shared across websites.
For the latest tech news and reviews, follow Gadgets 360 on Twitter, Facebook, and Google News. For the latest videos on gadgets and tech, subscribe to our YouTube channel.
Related Stories