Twitter has now introduced a new way to authenticate logins while using the service's two-factor authentication feature. It now allows users to enrol in two-factor authentication and verify login requests through its iOS and Android mobile apps.
The social networking service had rolled out two-factor authentication in May, allowing users to opt for secondary verification through their verified mobile phone numbers. Users could choose to get a verification code on their mobile phones and verify the same while logging-in on Twitter's website. However, it was limited to select mobile carriers (for instance, only Airtel, Reliance and Tata Docomo were supported in India).
Following the
rollout
of app-based verification, users will now be able to verify their logins through the mobile app, without the need for receiving an SMS from Twitter. This means that anyone with access to the apps will be able to use Twitter's two-factor authentication for increased security. They'll also be able to opt for two-factor authentication while logging in, through the mobile apps.
To enable the feature, users will need to tap on the Me tab in the Twitter app, open Settings and then tap on Security (Android users will need to tap on their Twitter username before they can select Security). You can then enable Login Verification from the screen. The app will then generate a backup code which you can note down at a safe place. This code can be used to login when you don't have your phone with you.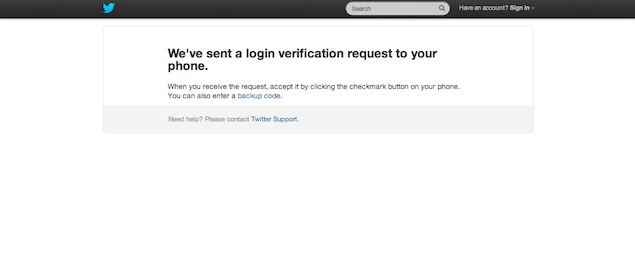 Following the process, you'll get a push pontification on you phone which will have the option to approve the login request. Tapping on the checkmark will automatically log you in. Even if you don't receive a notification, you can simply go to the app's Security settings and tap on 'Login requests' for approving them.
Interestingly, when a login request is made, you will see details related to the browser details and approximate location of the login attempt in the app.
The move increases the security of Twitter accounts, especially for users who access the service through public computers. It also decreases Twitter's dependence on telecom carriers and covers a larger number of users.
In addition to the security feature, Twitter has also added a couple of new features to its iOS and Android apps.
The service is introducing some new Search features including 'social context' that displays connections to other users when users search for a related term and a new photo gallery in search that displays a rich gallery-like interface when they search for pictures. On the iOS app the gallery would appear with user profiles allowing users to see all photos posted by a user/ account in one place.
The app also introduces list management making it easier to create, edit and organise lists and subscriptions. This feature was offered by third party apps like Tweetbot but was not part of the official Twitter app.