Popular photo-sharing app Instagram released an update on Thursday, and the latest version of the app does not include the 'Find Twitter Friends' feature.
Instagram says Twitter has cut off its access to its API, which forced Instagram to drop the feature. Though the app still presents the "Find Twitter Friends" option, both iOS and Android users of Instagram are greeted with the following message when the option is selected:
Unable to Find Friends
Twitter no longer allows its users to access this information in Instagram with Twitter API. We apologize for any inconvenience.
Though Twitter users can't find friends via the app, they can still make use of Instagram's Tweet Photo feature to share pictures onto the Twitter site.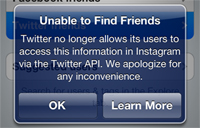 The reason for such a move by Twitter isn't clear. Speaking to CNET, a Twitter spokesperson said, "We understand that there's great value associated with Twitter's follow graph data, and we can confirm that it is no longer available within Instagram."
Earlier this year Instagram was acquired by Facebook, Twitter's rival in the social-networking space. Though the Facebook acquisition of Instagram is still pending regulatory approval, Twitter's move is bound to be linked to its own failed attempt at acquiring Instagram (as reported by the WSJ), despite public noises to the contrary.
For the latest tech news and reviews, follow Gadgets 360 on Twitter, Facebook, and Google News. For the latest videos on gadgets and tech, subscribe to our YouTube channel.
Related Stories