Tired of flipping through the radio dial? Internet radio service TuneIn is offering a way to see which songs have just started on 100,000 radio stations around the world, allowing you to listen in soon after the tune starts.
That's one of the new features of an update to TuneIn's app that went live Wednesday.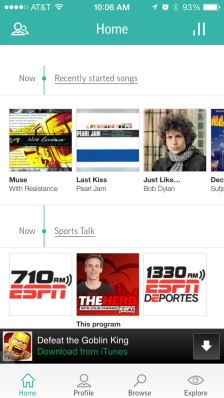 The service from Palo Alto, California-based TuneIn is not quite as good as on-demand listening, where you can hear just about any song in its entirety if you pay for a subscription to services like Spotify or Rhapsody.
But it's free - with ads - and gives you a way to find stations with real disc jockeys that are playing music you like.
You can even sometimes catch a song before it starts.
CEO John Donham says that's because TuneIn gets the song data from traditional radio stations, while the digital streams are fed to TuneIn a few seconds later.
After spending an hour or so testing a pre-release version of the updated app on an iPhone, I got a mix of songs starting anywhere from 20 seconds to more than a minute late. A couple times, I began listening to the radio station well before the song began, so I could catch the whole thing. Sometimes a 30-second digital audio ad - in most cases for GEICO car insurance - made me miss more of the song than I would have otherwise.
For the latest tech news and reviews, follow Gadgets 360 on Twitter, Facebook, and Google News. For the latest videos on gadgets and tech, subscribe to our YouTube channel.
Related Stories