Hollywood veteran Tom Hanks on Thursday released not a movie, but an app. The Hanx Writer (free, for iPad only) simulates the experience of writing on a typewriter, and does so really beautifully.
Hanks is, of course, not the first celebrity to be interested in apps. Ashton Kutcher is well known in technology circles today, Justin Timberlake moved from playing Sean Parker in the Facebook-inspired movie The Social Network to buying MySpace, and American Idol host Ryan Seacrest wanted to launch a hardware keyboard for the iPhone, called the Typo. The Hanx Writer doesn't feel like a celebrity stunt - it's well made, and would be an interesting app no matter who was behind it.
When you start the app for the first time, you'll see a note from Hanks, where he describes buying his first typewriter in the 70 and the tactile joy of using the typing device that our younger audience may have never seen. Hanks, himself a collector of typewriters, owns around 200 portable typewriters, he revealed in an interview with American talk show host Kelly Ripa.

Hanx Writer is, by modern standards, a terrible word-processor. To make the app authentic, there's no auto-capitalisation, auto punctuation or any other modern convenience. Instead, the app shows a large typewriter style keyboard, some paper, and lets you type with a wonderfully smooth animation showing the letters strike the page. All this, with a very satisfying clicking noise, and the joyous ding as you hit the end of a line - very retro indeed!
Instead of being able to copy-paste and move around large pieces of text, you really do feel like you're writing on a typewriter, and since you can't split the keyboard the way you can the iOS keyboard, thumb-typing isn't an option either. To use the Hanx Writer for actual work is a bad idea unless you have a Bluetooth keyboard paired to the iPad, but if you're not in a rush, then the app is actually pretty amazing to write with.
You can disable the modern delete key, and XXXX out letters when you make mistakes, but you can't change the font, or add pictures or charts to the text - the goal is to simulate a typewriter, not to make it better, after all.
That's also why you can only write in landscape mode; in portrait, the screen is too narrow, and instead of squeezing the keys, you get a document preview, to check your work.
Typewriters are not the best tools to write on anymore - but there is a huge amount of romanticism imbued in them, for at least people born before the 90s. We've got memories of looking at typewriters that our parents - or more accurately, our grandparents - used. Some of us might still have an old Remington lying unused somewhere, for the best part of a decade, maybe two.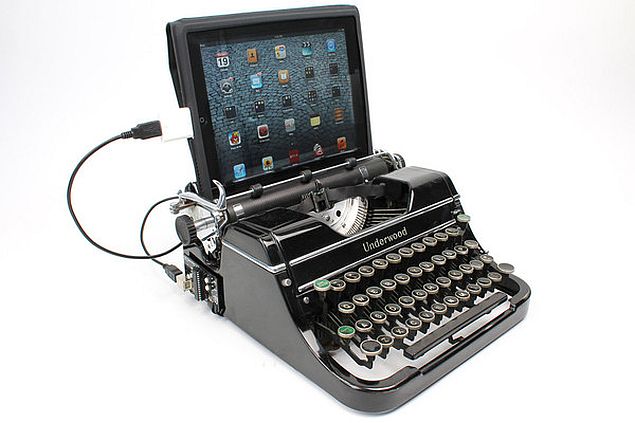 Even as we've moved on to swiping words across the screen in the name of efficiency, we tend to associate the typewriter with "real" writing. That's why text editing apps like Q10 default to typewriter sounds when you type - and also why something like the USB Typewriter exists. The USB typewriter is an actual typewriter that has been restored to be used as a keyboard with your computer or iPad.
There are many different restored models available, and they are really beautiful, but also very expensive. The USB Typewriters are $699 (the iPad model is $799) - more than the cost of a new iPad. For most of us, the Hanx Writer is a more reasonable compromise, and it really looks the part.
The minimal UI lets you focus on the beautiful keyboard and the font looks perfect on virtual sheet of paper. You can also change the text alignment, or the ribbon or background colour, but only if you are willing to pay money.
The Hanx Prime typewriter is the basic typewriter, which you get for free. For Rs. 190, you can unlock the Hanx 707, which also unlocks app backgrounds, and ribbon colours. The Hanx Golden Touch typewriter is an identical Rs. 190, and with that you get the ability to change text alignment, and add a title page and picture. Or you can unlock everything together for Rs. 300, if you prefer.
You get the ability to preview locked features before paying up - the model reminded us of the way Paper by FiftyThree was monetised. This way, you know exactly what you're paying for, and many will find the free offering more than good enough.
The one thing that we did not like about this app is that you don't have the option of sharing your writing as editable text. Instead, you can only share your work as a PDF file. You can't move from Hanx Writer to Word or any other editor on your computer to pick up on your work, which can be a little inconvenient. But then you also couldn't do that back when typewriters were all the rage, could you?
Other than this one minor quibble, we really loved Hanx Writer, and would definitely recommend trying it out.