For all you foodies and aspiring home chefs out there, NDTV brings you a one-stop food destination right at your fingertips. The NDTV Cooks app for iOS and Android helps you not just cook, but also discover restaurants and even order-in if you like. Does the app appeal to the chef in you? We find out.
NDTV Cooks features a simple and clean user interface. The app's home screen is divided under 4 sections. Recipes are sorted by Categories, Cuisine and Course with the Recipe of the Day highlighted at the top. You can access the Restaurant Listing and Reviews section as well as the Order Food settings from this screen directly (more on this later).
Apart from these, NDTV Cooks also gives you special Dine-In Offers and coupons, an exclusive feature for users of the app. You can add a restaurant to your Favourites and keep an eye for anything new from them. Once an offer is listed, you can download and redeem the same.
Further breaking it down, Categories are organised alphabetically to include everything ranging from Accompaniments, Breads and Beverages to kinds of Meat, Pasta and Desserts. You can also access the Quick and Easy section to satisfy those sudden cravings.
The Cuisine section offers a wide range of full course recipes from across the globe. You can choose from Mexican, Russian, Greek, Spanish, Thai and many more cuisines. The Course menu lists dishes based on type such as Snacks, Soups, Salads, Main Dish and more. They are further categorised as Indian, Continental, Seafood etc. depending on the type chosen earlier.
All dishes appear in a clean grid-layout. There are hundreds of recipes to choose from leading Indian Chefs, with full details and ingredients listing as well.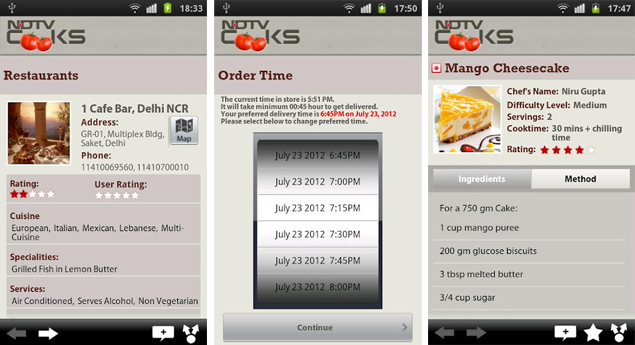 Apart from browsing through recipes, you can also search for restaurants in 8 major cities: Delhi/NCR, Mumbai, Goa, Pune, Kolkata, Bengaluru, Chennai and Hyderabad. Search is available by Cuisine, Type (Bakery, Cafe, Dhaba etc.) and Zone for each city. Once you choose your preference, a list of all available cuisines /restaurants in your city shows up.
Further, you can also order food from within the app. After a simple registration process, you need to login with your mobile number and password and you're good to go. While placing a new order, you can opt for pick-up or delivery. The app also has the ability to show you previously placed orders. You can also rate your order placement experience under the Testimonials section.
NDTV Cooks is integrated with Facebook and Twitter so you can share your cooking pleasure or dining experience with friends and family. The More tab at the bottom allows you to change Accounts settings and keep your very own cookbook. Once you add your favourite recipes, you can share them via social networks.
Overall, the app is very simple to use and explore. It provides a delightful way not just to satisfy your hunger, but for you to keep coming back, and ask: "What's cooking doc?"

NDTV Cooks (iPhone/ iPod Touch, Free)
NDTV Cooks (Android, Free)
Disclosure: Disclosure: NDTV Gadgets (this website) and NDTV Cooks are part of the NDTV group.