Microsoft's Skype team is diverting its focus from Android and iOS platforms, and is being reported to have started rolling out a minor yet much-awaited Skype app update for Windows Phone users. The new version is not yet visible on the Microsoft's Windows Phone Store in India.
The update brings the Skype app for Windows Phone version from 2.25.0.111 to 2.26.0.159, and includes the compact view UI design to let users save the time and effort of scrolling. The new compact view simply reduces the size of text in the app, helping users view more information on the screen at a glance.
According to the screenshots (seen below) of the updated Skype for Windows Phone shared by Windows Central, the new compact design will show at least six contacts at once on the screen. The current version shows just five contacts. Similarly, a greater number of conversation threads can be seen inside a chat window after the update. Some bug fixes are also included.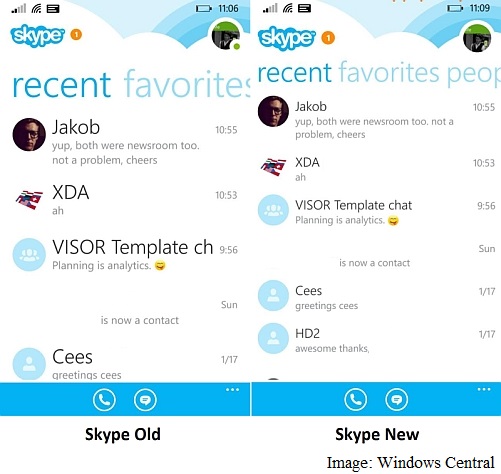 Despite being owned by Microsoft, Skype has been slow updating its Windows Phone app and is running behind the Android and iOS versions in terms of features. The popular VoIP app on the platform is yet to receive some other recently-introduced features like Smart Dialling, Picture-in-Picture, and more that are already present in Android and iOS app versions.
Notably, Microsoft updated its Skype app for Windows Phone in December last year, but that only brought bigger emoticons while texting and a better message management system. The firm additionally updated its Skype app for Windows by adding the ability to make a video call to other Skype contacts on Lync and vice versa. Skype for Windows v.7.0 also comes with touchscreen support.
For the latest tech news and reviews, follow Gadgets 360 on Twitter, Facebook, and Google News. For the latest videos on gadgets and tech, subscribe to our YouTube channel.
Related Stories