Skype for Windows 8 is expected to launch soon. But for now, the popular VOIP application just got updated with a host of new features for Windows and Mac users including Facebook and Microsoft integration. Skype 6.0 will allow users to now sign in with their Facebook or Microsoft accounts, without the need to create a Skype account.
Users will also be able to instant message with contacts from Windows Live Messenger, Hotmail and Outlook.com. Eventually, Microsoft is expected to roll out voice and video calls for Microsoft network contacts as well, something it says will arrive "in coming weeks."
While some may feel that having multiple accounts to sign into one application can be quite a task, but it isn't so. You will be prompted to merge your existing Skype account with your Facebook profile. The same applies when logging in with your Microsoft accounts. It's worth updating for the simple reason that you can now message all your contacts from one application.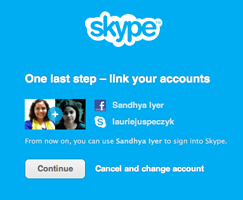 Apart from getting visual improvements that give the app a Windows 8 appeal, Skype 6.0 for Windows now supports six additional languages - Thai, Croatian, Slovenian, Serbian, Catalan and Slovak. Furthermore, users can choose from previously used Facebook profile photos to update their display picture.
Mac users of the 15-inch MacBook Pro users and those planning to buy the new 13-inch MacBook Pro will be glad to know that the app is now optimised for Retina Display.
Microsoft acquired Skype
last year for $8.5 billion. Since then, the two companies have been working closely to bring updates and changes to the video calling application. Microsoft is set to launch its latest
Windows 8
OS on October 26.
For the biggest CES 2021 stories and latest updates, visit our CES hub.
Related Stories