Samsung back in March had launched a music service called
Milk Music for users
of its Galaxy smartphones. Now, the South Korean company has launched a mobile video service named Milk Video available exclusively for Galaxy customers.
Samsung's Milk Video service is currently available in the US only, and the company touts it as "The Next Big Thing in Video." The service is essentially a curated video discovery service that pulls in short-form video content from popular providers.
The company is promoting the new video service as "a video discovery service that makes it easier than ever to find and share the best and most talked about online videos."
The new Milk Video app is now available to download from Google Play and is compatible with a limited number of Galaxy devices, namely Samsung Galaxy S III, Samsung Galaxy S III mini, Samsung Galaxy S4, Samsung Galaxy S4 mini, Samsung Galaxy S5, Samsung Galaxy Note II, Samsung Galaxy Note 3, Samsung Galaxy Note 4, and Samsung Galaxy Mega.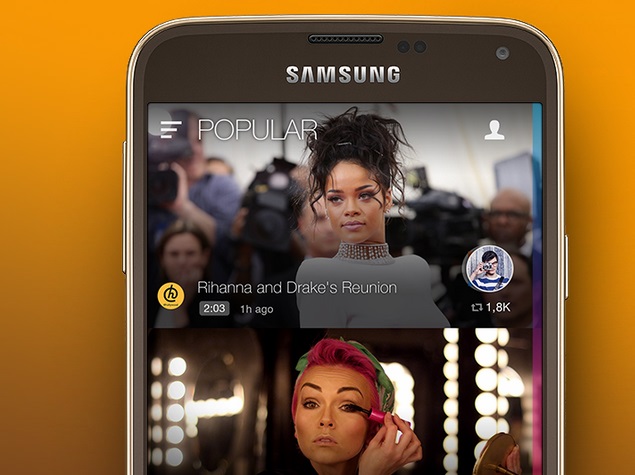 At launch, Samsung announced that brands and networks will be contributing content for the Milk Video service, such as Conde Nast, Funny Or Die, Red Bull, Vevo and Vice, among others. The South Korean company stresses that sharing Milk Videos with friends outside the app can be done via Facebook, Twitter, and mails.
Mashable in a report quotes Samsung's Vice President of Content and Services, Kevin Swint, to say, "Discovery happens in very haphazard and random way. This experience leaves a lot of people feeling like they're always the last one to see the video that everybody is talking about. We thought we could solve that."
The report adds that Samsung has also partnered with YouTube for videos; it says, "Videos are sourced from a number of sources including YouTube."
The South Korean company had tried its hands with numerous bundled content services on its smartphones and tablets, but was unable to make money off them, leading to closures of the services. With Milk Music and now Milk Video services, Samsung is making another entry into the content streaming and delivery space, after it closed its Video and Media Hub alongside its Music Hub earlier this year.
Notably, Samsung's biggest competitor, Apple, earlier this year acquired Beats Music and Beats Electronics - with the former a fast-growing music streaming service. Recent reports indicate that Apple may be looking to bundle the Beats Music app into future iPhone and iPad devices.
Affiliate links may be automatically generated - see our ethics statement for details.