In line with what we had
reported
, online music streaming service Saavn has rolled out a paid subscription option, which the company calls, Saavn Pro, with a version 2.0 update for its iOS app. The Saavn Pro service has been priced at $3.99 or Rs. 220 per month but the company is also offering a 30-day free trial to users.
In addition to offering an ad-free experience, Saavn Pro will also allow users to cache music for offline listening. Users will also be able to sync saved music between different devices. Sync can be done with both 3G and Wi-Fi connectivity.
The version 2.0 update also brings a new clean user interface, in addition to performance updates and easier sharing and management of music.
Meanwhile, Gaana.com, the music streaming service from Times Internet, has launched an app for Windows Phone 8. It also supports Windows Phone 7.5. The app offers a different user interface in line with the Modern UI (erstwhile Metro UI) design philosophy.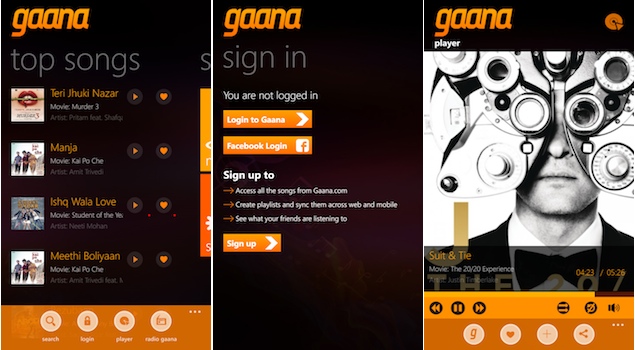 The company had
announced
that it would be rolling out its Windows Phone app on its blog last month. It had also talked about a premium service, Gaana+ that brings offline listening in addition to other features. The Gaana+ service is also slated to debut this month.
Gaana had recently launched a BlackBerry 10 app. It also offers apps for iOS, Android, BlackBerry and Nokia.
Release notes:
- Built for Windows Phone! Experience the amazing UI of the Gaana application on Windows Phone.
- Search from over 1 million songs for the one you love - whether it's English, Hindi, Bengali, Punjabi, Marathi, and much more!
- Go Social - Gaana for Windows Phone has been made to ensure that your social experience is absolutely smooth. Easily share your favorites with friends on Facebook, Twitter, or by email.
- Bring your playlists and favorites from other platforms to Windows Phone. All the music you have favorites or sorted into playlists on the Web or any other mobile platform will be available once you log in.