Rovio seems to be trying to capitalise on the trend of retro 8-bit style 'addictive' video games that climaxed with Flappy Bird, with a new offering of its own that's dubbed Retry.
The game, developed by Rovio's new LVL11 team, has been soft-launched in Canada, Finland and Poland. Retry has been made available for iOS in the corresponding country-specific App Store sites (Finland store).
Rovio's description of Retry on the App Store reads:
From the guys sitting in the room next to the guys who made Angry Birds, comes RETRY - a game so hard, so addictive, so old school that you'll think you've stepped into an 8-bit time machine and gone back to 1986. Totally rad!
Just like Flappy Bird, whose developer had directly equated the game's baffling success (and reason for pulling the game) to its addictiveness, the very name of Rovio's new game implies a high-level of difficulty and the obsessive need to 'Retry'.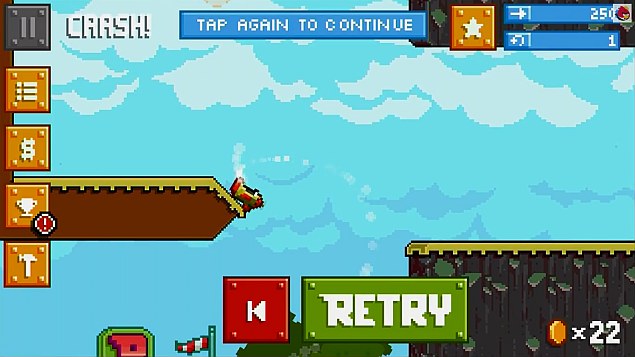 In a sense, Rovio has made what many would consider a Flappy Bird knock-off - a plethora of which had inundated app stores after Flappy Bird was taken down by the developer. However, the Finnish mobile gaming giant has definitely taken care to try and differentiate the game.
Retry features similar side-scrolling navigation of a flying object through a series of vertical obstacles as Flappy Bird, as well as a similar 8-bit design style. Once again requiring players to tap on the screen to control the plane's altitude, Retry brings a few difference however, as noted by Arctic Startup. The player can control how fast the plane flies, can land it at bases, can move backwards and forwards to collect coins, and can unlock checkpoints at bases with the coins.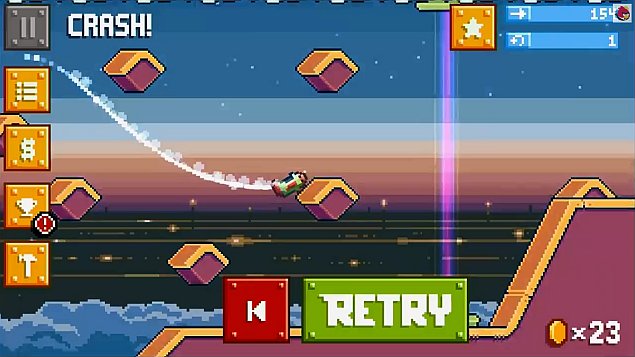 Rovio's Retry also features more than one level, and awards players star-based scores on each just like Angry Birds. Retry's moving walls, water and other obstacles are also unlike Flappy Bird and its monotonous pipes set in a single level, with a single score.
Coming back to the blockbuster from earlier this year, we wonder how Rovio has integrated the crucial global leaderboard that contributed to Flappy Bird's addictiveness and ensuing success.
What do you think of Rovio's efforts in the newly-popularised 8-bit side-scrolling genre? Is Flappy Bird's formula plus the Finnish giant's own tweaks sufficient to make the game a bestseller? Let us know in the comments section below.