Opera on Tuesday launched a free and unlimited VPN for Android which also includes an ad-tracker blocking function, and a Wi-Fi security test. Opera provided Gadgets 360 with a copy of the VPN application a little before the launch and we got to try it out for a little while as well. Here's how it worked.

There are many reasons to get a VPN running on your phone and your computer, as it can be useful to access sites that are being blocked, and it is also useful for accessing websites without being tracked. However, most VPN services are either paid (and can work out to be fairly expensive) or might not seem entirely trustworthy.
Opera's VPN seems to be a solution to both these issues, as the VPN is completely free, and the company is well-known and not some fly-by-night operation. "The Opera VPN app for Android sets itself apart from other VPNs by offering a completely free service - without a data limit, no log-in required, advanced Wi-Fi protection features and no need for a subscription," says Chris Houston, President of Surfeasy, Opera's VPN division.
The Android version of the app follows the iOS version that was launched earlier this year, and has many of the same features. When you launch the app, you have a single button to enable the VPN, and then you can choose from one of five locations - Canada, Germany, the Netherlands, Singapore, and USA. The ad-supported app is very simple to use, and makes it easy for just about anyone to start using a VPN.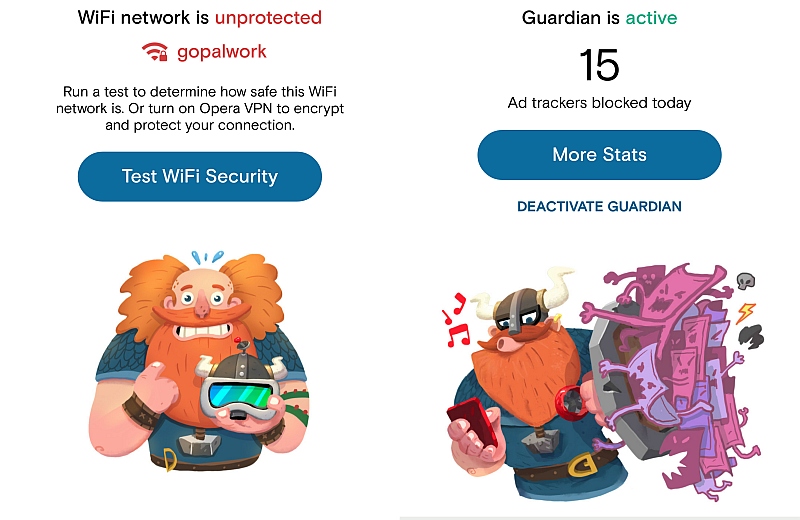 (Also see: Opera Deputy CTO Bruce Lawson On Opera VPN and Adblock)

"We've incorporated a Viking in the app, because Vikings didn't care about borders, and they certainly wouldn't be afraid of public Wi-Fi. The Opera VPN app can unlock online borders and is the closest thing to a Viking shield that today's mobile users have for virtual self-protection," says Chris Houston.
The Viking actually goes a long way in making the app feel accessible. His outfit changes to match the flag of the country you've chosen as your region, for example, and small visual elements like these make it clear what the app is doing for you. Changing regions was quick and easy, and worked to access sites that are blocked otherwise.
By changing the region to the US, and then launching the Netflix app, we were also able to see the US catalogue, although the player detected that there was a VPN on and so would not stream. Some other region-specific content however loaded properly when using the VPN, though speeds were far from ideal.

One problem we did experience was that the speed of the connection dropped when the region was set to the US. Without the VPN, our speed was 24Mbps, according to fast.com. When the region was set to Singapore (the closest region), it dropped to 4.4Mbps. And for the US, the number actually dropped to 62Kbps.

Apart from this though, the app itself worked well, and the Wi-Fi test feature is particularly useful if you're the type of person who is often connected to the network in an airport or cafe. It can analyse the weaknesses in a connection, and protect the connection as well, which is a nice feature. The final feature is the Guardian - it blocks ad trackers (the VPN is automatically enabled for this) which protects your privacy, though it doesn't outright block ads. You can also see the stats of all ad trackers blocked, for today, or for the total amount of time you've been using the app.
All in all, the feature set that comes with Opera's VPN is pretty useful, dead simple, and best of all, free. We'd suggest giving it a try once it is available in your region, which should be happening shortly.