Google on Thursday has rolled-out an update to its Android Device Manager app with an interesting new feature to set a call back button on the lock screen of a lost or a stolen smartphone.
The updated Android Device Manager app (v1.3.8) can be downloaded for devices running Android 2.3 or higher from Google Play. Apart from bug fixes and performance improvements, the updated app now allows users to set a call back button on the lock screen of their lost or stolen phone.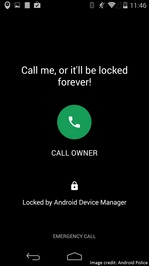 As before, Android Device Manager allows users to set a lock screen password and a custom message for lost or stolen phones, and with the updated app, they also have the new option to add an alternative phone number that will appear in the form of a bright green call button on the lock screen. While they can set up the feature before the device is lost or stolen, the feature can also be set up afterwards, by signing into Android Device Manager via the Web, or in guest mode via a friend's Android phone.
While Android Police reports the call back option is 'basically limited to phones, for obvious reasons', it should work on tablet devices with a voice-calling feature.
Android Police also found evidence of possible future Hangouts integration to the call back feature in the code of the updated Android Device Manager app.
On Wednesday, Google also updated its Search and Play Music apps for Android with new features.
The Google Search app has been updated to version 3.6. The update is said to enable deep linking of apps through search and could possibly allow "Google to show content from inside an app and link you directly to it if you've got it installed."
On the other hand, the
Google Play Music
app received a minor update which bumped the version up to 5.6.1616, from the previous 5.6.1609P. Notably, Both apps on Google Play in India still lists the older updated versions.
For the latest tech news and reviews, follow Gadgets 360 on Twitter, Facebook, and Google News. For the latest videos on gadgets and tech, subscribe to our YouTube channel.
Related Stories