SwiftKey has announced that the Nokia X family of devices - and any future Android device with access to the Nokia Store - will get the popular keyboard app for free.
SwiftKey, the fast-typing predictive text keyboard, will also arrive with support for SwiftKey Cloud, which gives users the ability to backup and sync their personal writing style across multiple devices and offers predictions for current trending phrases and words. It will also include three SwiftKey app themes (Cobalt as the default theme, Holo and Light).
The original SwiftKey app for Android is available in a free-for-a-month trial version in some regions, or users can buy the app outright for Rs. 99 ($3.99 in the US).
SwiftKey CEO and co-founder Jon Reynolds sayid, "We are delighted to be collaborating with Nokia on their debut Nokia Store, a company renowned for its significant user base and impressive reach in emerging markets. This collaboration with Nokia demonstrates our ongoing commitment to bring SwiftKey's personalized, adaptive technology to as many users as possible."
SwiftKey will be available on Nokia Store in the following countries: Vietnam, Indonesia, China, Thailand, Russia, Ukraine, India, Pakistan, Nigeria, Egypt, South Africa, Kenya, UAE, Kuwait, Philippines, Malaysia, Kazakhstan, Oman, Qatar, Poland and Turkey.
The Nokia X, Nokia X+ and Nokia XL dual-SIM Android-based smartphones were announced on 24 February 2014 by the Finnish firm at the sidelines of MWC 2014 in Barcelona.
Also coming to Nokia X is another popular app, BBM. BlackBerrysaid it will make its messaging service BBM available to Microsoft's Windows Phone and the upcoming Nokia X platforms in the coming months. BBM for Nokia X will be available from the Nokia Store when the Nokia X platform launches, BlackBerry said in a statement on Monday.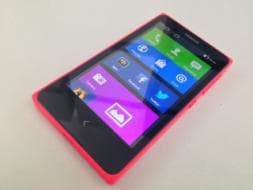 Nokia X Android phone in pictures