The NDTV iPhone app has been completely overhauled to offer an optimised user experience for iOS 7 users, bringing new design elements, Hindi language support and offline reading support, in addition to several other changes and improvements.
The redesigned NDTV app sports a brand new, clean user interface employing flat red and white coloured UI elements and translucency, which is based on the hierarchy of content levels., in line with the design language of iOS 7.
Instead of slide-out menus, the navigation across categories in one section takes place through a clean drop-down menu at the top.
The new NDTV app also employs the 'swipe to right' gesture for going a level back, when you're reading a story or are in a sub-menu. Similarly, the 'swipe to left gesture' brings up a quick menu for favouriting, commenting and sharing a story, without even opening it.
Talking of sharing, the new NDTV app offers addition sharing options integrating WhatsApp and Google+, in addition to sharing via Messaging, Mail, Facebook and Twitter. The app also offers a Related content option for stories and videos, along with a Search option. Users can now comment, rate and reply to other comments in a story.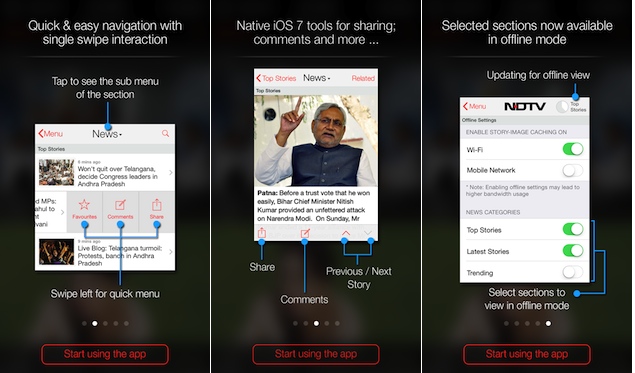 The NDTV app now also supports Hindi at the top level. One can just toggle the language and the entire app transforms into a Hindi language news app.
The Live TV screen has also been revamped and now displays the programming schedule according to the local time zone.
Videos and Photos section feature a distinct black background to enhance the experience of browsing through them.
The revamped NDTV app features a brand new Weather section with detailed information on current weather conditions, and a three day forecast.
The new NDTV app also brings support for offline reading and allows users to select content across a few or all categories for being synchronised for offline reading on the go. The app also includes support for existing features like the Second Screen through which users can interact with NDTV, and iWitness for reporting incidents.
The updated NDTV app's notifications are also now accompanied by a distinctive NDTV tune.
The brand new NDTV app is now
available
on the iTunes App Store.
Disclosure: The NDTV app and NDTV Gadgets (this website) are both part of the NDTV group.