Want to star opposite Deepika in Yeh Jawani Hai Diwani? Or with Salman in Dabangg?
NDTV brings you Khachack app for iOS and Android that features a huge stock of contemporary and archive movie posters that you can edit. Remove the movie star and put yourself or any of your friends into posters of current Bollywood, Telugu, Kannada, Malayalam movies as well as all-time Classics. The collection is updated weekly to feature posters of new releases.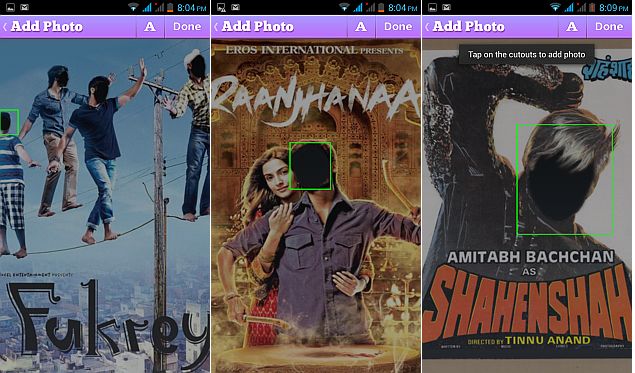 You can apply a variety of effects to enhance the photo and share with your friends across various social networks. The poster is saved in your phone's storage and your masterpiece can then be shared to social networks you've signed into or via email. You can tag your friends or tag keywords like the name of the film, actor, director or add effects. You can even create Circles, a pre-defined list of contacts you can privately share your stuff with.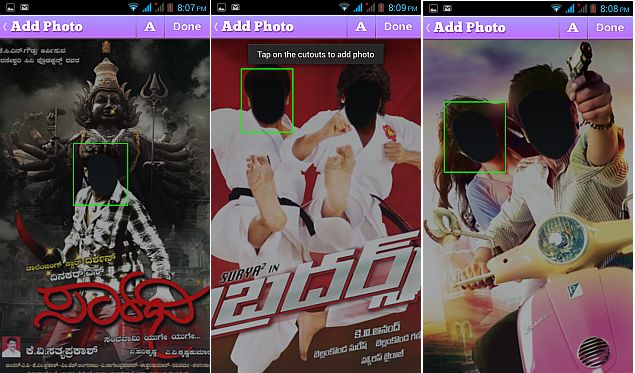 After downloading the app, you can sign in to your Twitter, Facebook and Flickr accounts, and give the app permissions to share pictures with your friends and access your account. The app then takes you to the Posters screen, which is the default screen whenever you open it. You'll also see a Camera button and a Timeline button.
Getting started with Khachack is quite simple:
* Browse posters across categories like Bollywood, Telugu, Kannada, Malayalam, Classics and Tamil. Select the poster you want to play with and tap on the placeholder. You'll get the option to take a picture or to choose one from your phone's gallery. You can then pan the photo and zoom-in or out to fit the face in the photo in the placeholder, replacing your favourite character in the poster. After that you can preview the poster and when satisfied, save it with or without adding additional text.
* You can choose to enhance photos focusing on the light condition they were shot in. This includes Night, Backlit and Balance options in addition to an Auto option. You can add Instagram-style filters to photos via Effects. The app includes Clyde, Avenue, Haas, Zona, Lucky, Dean, Keylime, Marie, Boardwalk, Sage, Metropolis and Cruz effects as default options, while you can download more effects within the app.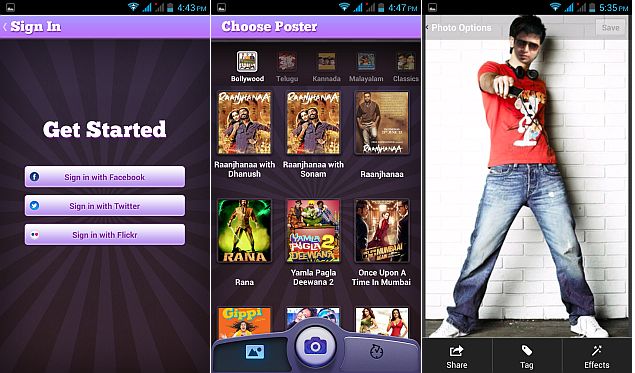 * You can also change the orientation, crop, tinker with Brightness, Contrast, Saturation and Sharpness, draw something over the picture, add text to it, make it into a Meme, adjust Redeye, Whiten the image, fix Blemishes, adjust warmth through the app's built-in photo editor. After adding effects, you can share the picture and add tags, just like sharing a poster.
* The app's Timeline view can be invoked by tapping on the Timeline icon that brings an image feed of your social networks. You can see all the pictures shared by your friends/ connections in the Timeline view across the connected social networks. You can even download these pictures, like/ favourite them or comment/ reply through the Khachack app.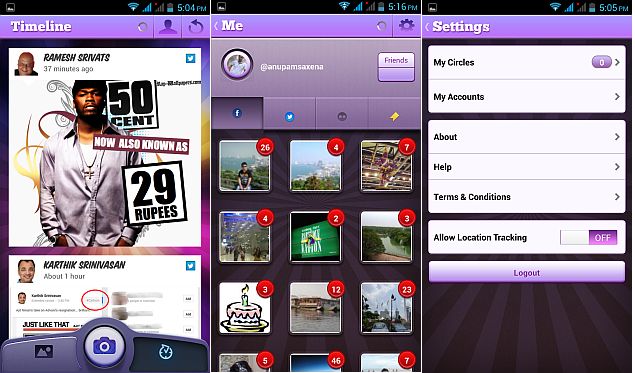 * You'll also see two buttons on the top-right side - Me and Refresh. While the Refresh button refreshes the feed, the Me button gives access to all of your uploaded photos on the social networks. You can browse your photo albums by tapping on the respective social network's icon. While browsing pictures, you'll see three buttons - download, like and comment. Tapping on each lets you performed the said action.
While you wait for the applause on your masterpiece to pour in, you can also check out photos that your Facebook, Twitter and Flickr friends are posting, without ever leaving the app. More social networks like Instagram will be added in a future update.
But there's more to the Khackack app than just movies, it's a full-fledged app for consuming photos from all your social networks. You can also use the Khachack app for taking pictures and adding effects. Simply tap the Camera icon to take a photo or pick one from the phone's gallery. You can add a myriad number of effects to the photo.
The app features a Settings button in the top right of the Me screen. You can add your social network accounts, enable location tracking and create Circles through the settings menu.
It's worth noting that due to the image intensive nature of the app, the developers advise you best use it on Wi-Fi or 3G networks, as the performance may not be great on EDGE networks.
Khachack is available now as a free download for
Android
and
iPhone
.
Disclosure: Khachack app and NDTV Gadgets (this website) are both by the NDTV group.