We've previously heard Microsoft is working on a new browser for Windows 10, and the first details related to the unannounced
'Spartan' browser
came across last month. Now, the first alleged screenshot of the Spartan browser has surfaced on the Internet showing the design.
The screenshot of the Spartan browser purportedly shows the loading of a Facebook page. Posted by BGR, the screenshot shows the browser sporting a different and flatter design than Microsoft's Internet Explorer and features UI elements on top left side of the browser just below the URL section.
BGR notes that the 'Spartan' browser comes with a "minimalistic design, featuring clear, straightforward and clutter-free UI elements." Sources claim that Microsoft assigned a special team in September for development of Spartan browser and the team is said to be working "non-stop" on the design of the browser.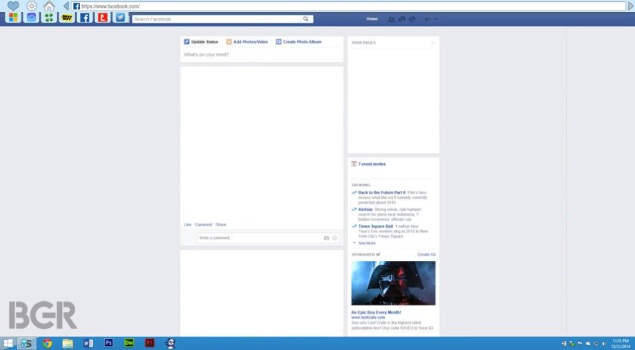 "A third redesign was completed by Christmas, with the image above belonging to the second version of Spartan, dating back to early November," notes the report.
Notably, Microsoft's Spartan browser is said to support voice-commands with some listed in the report such as 'add to favourites', 'make that my home page', and 'go to Facebook.com'. Relevantly, last month, a leaked early build of Windows 10 had showed that Microsoft will integrate Cortana into the OS.
In addition, Spartan browser will be reportedly able to run different browsers inside it - with the push of a button. "For example, users could split the browser into four windows that would be showing them four different ways to seeing a website or online application, as long as those browsers are also installed on the same device," explains the report.
Unfortunately, the report does not name the final marketing name of the Spartan browser; though it confirms that the browser has been indeed codenamed Spartan.
The earlier report had revealed that the Spartan browser will be an overhauled version of the Internet Explorer (IE), and might be even shown at the scheduled 'The Next Chapter' event for Microsoft Windows 10 on January 21. The Spartan browser was said to pack new features and look more like Chrome and Firefox. The browser was also stressed to be a "lightweight browser."