Microsoft has
updated
native apps for Windows 8 including the Mail, Calendar, and People apps. The apps can be
updated
through the Windows Store and users can just tap or click on the "Updates" link that appears in the top right-hand corner of the Windows Store to install the updates.
The Mail app update brings the ability to create and delete folders directly within the app and select all items within a folder and move them (or delete them all). It also lets users flag emails and flagged emails show in the inbox (or any other folder) and in a "Flagged" folder within the Mail app. The features can be used via app commands by swiping from the bottom or top of the screen or by right-clicking with a mouse.
Following the update, the Mail app will also remember and suggest contacts that users email regularly. Draft messages will now appear at the top of the user's inbox, and when replying to an email, the draft will show up within the email conversation.
The compose email screen has also been updated to enable users to easily add, edit, and delete hyperlinks and edit bulleted or numbered lists in email messages.
Microsoft claims that the Mail app also works a lot better in keeping the format of content pasted into an email message from web pages, Microsoft Word documents, and other apps.
The Mail app only keeps email messages within a two-week timeframe by default but users can change that setting. Users can also now search for email on the server.
The changes apply to both personal and work email accounts and the app now supports reading and composing rights-managed email messages. It will also pull contacts from a Microsoft Exchange global address list and will provide contact information from Exchange.
The calendar app has been updated visually to make calendars easier to read and instead of the solid blocks of colors, a small bar on the left of each appointment reflects the color code. A new "Work week" view has also been added. The Calendar app now supports forward of meeting invitations, sending email to all meeting attendees, choosing more recurrence options for reoccurring meetings or events and set end dates for recurring events.
The People app update brings easier navigation and users can now navigate the People app by swiping from the top (or right-clicking via there mice) to bring up the app commands. The app also sports a new navigation menu at the top that allows users to easily toggle between their profile where they can post status updates and Tweets and another view where they can check out what friends are posting on the "What's new" feed. The app also supports posting to Facebook friends' Facebook wall, in addition to bringing the ability to filter "What's new" feed by social network.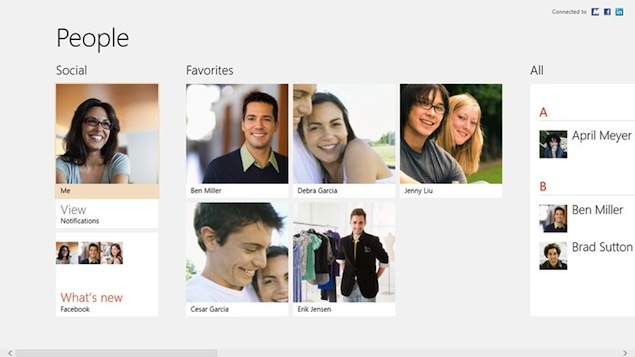 It's worth noting that the update also removes Google Sync support and all Gmail accounts will be switched to the IMAP protocol, while Google contacts will be added through CardDAV protocol.