Microsoft on Monday started accepting the submissions of Universal Windows apps created by the developers via the Windows Phone Dev Center website. The firm's Windows Phone Store and App Studio were also said to be down for few hours following the release of the Windows Phone 8.1 developer preview on Monday.
The Redmond-based firm has started allowing the Universal Windows app developers to link listings in the Windows Store and Windows Phone Store. "Today I'm pleased to announce the opening of the Windows Phone Dev Center for publishing your Windows Phone 8.1 apps and for linking your Windows and Windows Phone apps to create universal Windows apps," stated Keith Senzel, from the Dev Centre engineering team on a Windows Blog post.
The team, besides making some enhancements to address the developer's feedback, has also mentioned some new shared features across Windows Phone Dev Center and Windows Dev Center.
By linking the apps across the two stores to create a Universal Windows app, developers will be able to offer customers the 'get once and download for all compatible Windows devices' experience, apart from being able to link in-app purchases, and both Windows 8 and Windows 8.1 apps. Linked apps also give developers the ability to roam application data across form factors, and a single notification channel.
Like the Windows Store, developers will now be able to reserve app names up to 12 months in advance on the Windows Phone Store, notably, for Windows Phone 8.1 apps only. Both Windows Store and Windows Phone Store now don't require a credit card for identity validation, and can now use PayPal.
Microsoft has also outlined the consolidated price tiers and consistent certification policies between the Windows Store and Windows Phone Store.
Microsoft also detailed the exclusive changes to the Windows Phone Dev Centre. The developers can continue using the Silverlight platform with new features in the WP8.1 SDK package or can choose to work on Windows Runtime platform; they can add WP8.1 OS package to existing WP7.1 and WP8.0 apps in the App store; work on simplified package targeting to a given phone and its OS platform; experience a redesigned Dev Centre that will later be integrated with other properties; enjoy simplified and quicker certification time that has been reduced from a few days to a few hours.
The team further more mentioned some upcoming features that will be included in the Windows Dev Center, without detailing the exact timeline of release. Windows app developers will be able to set app pricing with specific start and end dates; pre-submit privacy policy for an app to reduce the chances of app certification failure; and can tell whether the app needs touch-enabled device to work or not while submitting an app.
By introducing these features for the developers, Microsoft is said to have made its experience of releasing an app across platform streamlined.
In the related news, it was also reported that the Windows Phone Store and the App Studio were experiencing issues shortly after the release of the Windows Phone 8.1 developer preview on Monday, and were intermittently inaccessible for a few hours. The cause for Windows Phone Store being inaccessible is not known, with Microsoft's support announcement just saying: "Windows Phone Marketplace unavailable in some regions. Customers in some markets may be unable to access the Windows phone Store".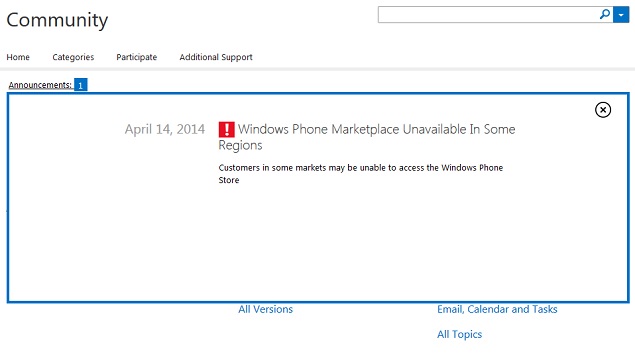 Coming to App Studio, it is quite obvious that in order to experience the newly launched Windows Phone 8.1 OS, not only actual developers, but enthusiastic general users signing-in as developers rushed in via App Studio to download the update on their devices, thus clogging up the works. As per Phonearena, it took roughly three hours to complete the sign up process.