Microsoft has released its revamped suit of MSN-branded Bing apps for Android and iOS platforms on Thursday, which
while introducing in September
was detailed to release in the coming months.
During the introduction in September, Microsoft had said, "In the coming months, we will release a suite of MSN apps across iOS and Android to complement our corresponding Windows and Windows Phone apps. You only need to set your favorites once, and your preferences will be connected across MSN, Cortana, Bing and other Microsoft experiences."
Now the rebranded MSN Food & Drink, MSN Health & Fitness, MSN Money, MSN News and MSN Sports apps are now available to download via App Store and Google Play. All these apps will also work with Amazon's Android-based devices as well.
The MSN Weather app is also available to download for Android devices, but its iOS version will release "in the coming months", said Microsoft.
Meanwhile, Microsoft on Wednesday announced that it has started integrating its Bing search technology into its Office suite of apps, starting with Word Online. The capability will be added automatically and users are not required to do anything.

The new "Insights for Office" allows users to Bing search through Office documents online. Users can also do a right click on a highlighted word or phrase and select Insights from the menu for relevant information from a variety of sources like Bing Snapshot, Wikipedia, Bing Image Search, Oxford English Dictionary and the web.
"Imagine you came across something new in a document that you are working on and want to find out more. What if you could find the information you want without disrupting your flow and without having to open a new tab in your browser to do a search? With Insights for Office, you can bring the information you want right into Word Online, in a seamlessly integrated experience that lets you learn and explore as you are working on your documents in your OneDrive," said the company on its blog.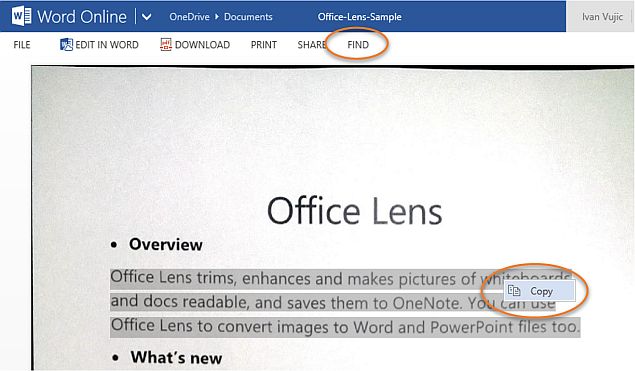 Additionally, Microsoft has brought enhanced support for Find and Edit in Word functions for pdf files. With Find, users can now copy text from an image and search via the Find button located on top tool bar. To convert pdf into an editable Word document, user also has a Edit in Word button alongside Find.