Microsoft has released a new keyboard app for Google's Android Wear-powered smartwatches called Analog Keyboard for Android Wear.
Currently released as a prototype, the app allows users to enter text by drawing handwritten letters on the watch face. The Redmond giant notes that the current version (0.1) only supports square-screened smartwatches with a 320x320 resolution, apart from the Motorola Moto 360.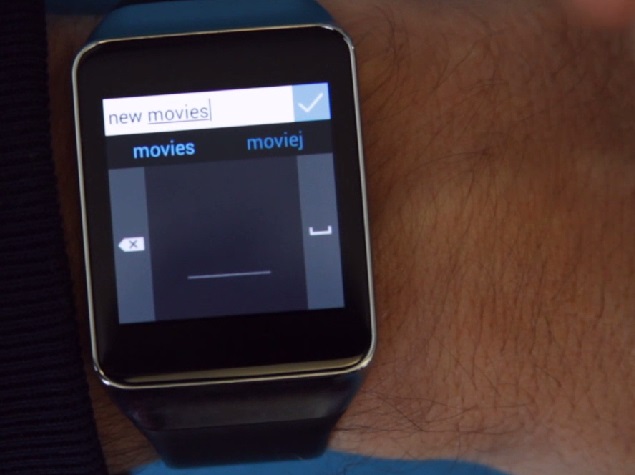 The Analog Keyboard for Android Wear can be downloaded from the Microsoft Research page. The company notes, "With the Analog Keyboard Project we are exploring handwriting recognition for text input on small touch screens. Handwriting, unlike speech, is discreet and not prone to background noise. And unlike soft keyboards, where many keys have to share the small touch surface, handwriting methods can offer the entire screen (or most of it) for each symbol. This allows each letter to be entered rather comfortably, even on small devices."
The company has also shared a video that shows the prototype Analog Keyboard app for Android Wear running on the Samsung Gear Live and Motorola Moto 360. The video shows few examples of the app usage such as messaging, searching, and typing special characters. Microsoft has provided some usage tips as well.
Write lowercase. You can enter lowercase English letters (print), numbers, and basic punctuation symbols. Uppercase letters are not supported (see Limitations below).
Start slowly and neatly. When using the prototype for the first time, watch the fading strokes on the writing panel and make sure they are legible and properly separated from one another. The recognition accuracy should be fairly high that way. Then try to develop a sense for how sloppy you can write while still getting good accuracy.
Frequent words like "this", "and", etc. will often be auto-corrected by the system once all characters have been entered, so it's generally faster to finish writing these words even if there are wrong letters along the way.
Rare words on the other hand, like names or hashtags, should be written slowly and verified character by character (auto-correct is suppressed if you pause a little after each character).
Eyes-free. This is fun to try: how long a word can you write without looking at the watch?
Backspace key has a repeat function (long-press)
With an app released exclusively for the Android platform, Redmond giant's willingness to create products for platforms apart from its on continues. Last month, Microsoft launched the Universal Mobile Keyboard, an accessory compatible with Android, iOS, and Windows devices. Conspicuously, the Bluetooth keyboard was not compatible with Microsoft's own mobile platform, Windows Phone.
For the latest tech news and reviews, follow Gadgets 360 on Twitter, Facebook, and Google News. For the latest videos on gadgets and tech, subscribe to our YouTube channel.
Related Stories