Microsoft is revamping its Outlook app for Android and iOS. The company announced its plans to integrate features of Sunrise, a calendar app it acquired earlier this year, into the email client. In addition, Outlook mobile app has also become cleaner and refined, the company adds.
Microsoft announced on Wednesday that the team at Sunrise has "put their design expertise and fresh thinking to work [...] to deliver a more beautiful and improved experience." Over the coming months, the company says that Sunrise's headline features like Interesting Calendars, and Connected Apps will find their way to Outlook. As part of the move, Sunrise will discontinue its app, offering no new updates.
In addition, the company is pushing a major update to Outlook Android and iOS clients to make the user interface cleaner and refined. The iOS version, it says, now offers a refined new look and organises email, calendar, people, and files in a more efficient way. The Android client, on the other hand, is getting a redesigned header, and compose experience. The changes have been made in compliance with Google's Material Design language. Changes to Outlook's Windows Phone client will arrive "soon".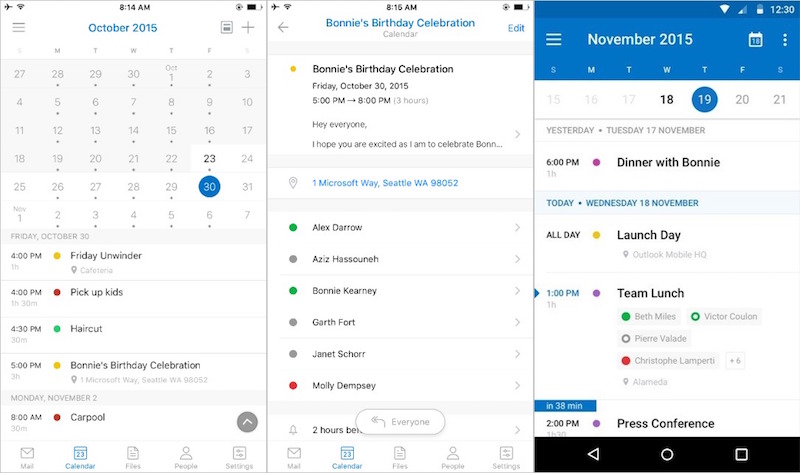 The updated Outlook apps are already available on the App Store, but has not yet reached Google Play India. The company also shared stats of Outlook. It noted that 30 million people are using Outlook on iOS and Android every month. This accounts for 1.2 billion monthly sessions. Many people - around 20 percent - use more than one email account on Outlook.
Once prominently focused on Windows platform, Outlook service has undergone a major revamp over the past one year. The company acquired Acompli in December, a beautiful email client and utilised its features to revamp its email app, releasing it in January. Javier Soltero, the founder of Acompli now heads the Outlook division inside the company.
Shortly after launching its revamped Outlook client in January, Microsoft in February announced its acquisition of the Sunrise calendar app in a bid to expand its presence on rival platforms. Whether people will like having calendar features in their email client, is something only time will tell.
For the latest tech news and reviews, follow Gadgets 360 on Twitter, Facebook, and Google News. For the latest videos on gadgets and tech, subscribe to our YouTube channel.
Related Stories