Microsoft has released a preview version of its Remote Desktop app for the recently announced Windows Phone 8.1 OS, and has detailed its features. Notably, no such app has been released for the widely available Windows Phone 8 platform.
Also notably, when Microsoft had first released the Remote Desktop app in October last year, it had conspicuously given the Windows Phone platform a miss - releasing it only for Android, iOS, and OS X.
With the decision by Microsoft to release a Remote Desktop app only for Windows Phone 8.1, we can assume some lack in the Windows Phone 8 platform that stops the Redmond giant from making such an app for it. Microsoft has not mentioned or detailed the reason for not bringing the Remote Desktop app to Windows Phone 8.
The Microsoft Remote Desktop Preview app for Windows Phone 8.1 is said to deliver top-of-the-class performance supported by its Remote Desktop Protocol (RDP) 8.1 and RemoteFX technology. "You can experience the power of Windows with RemoteFX in a Remote Desktop client designed to help you get your work done wherever you are," states David Bélanger, Program Manager on the Remote Desktop team on the blog post.
Keeping RDP 8.1 and RemoteFX as the highlight of the app, Bélanger mentions these two functions to offer a "high fidelity audio and graphics" along with the rich multi-touch experience. Other features supported by the Microsoft Remote Desktop Preview app for Windows Phone 8.1 OS are Network Layer Authentication (NLA) protocol to protect users' data; connection centre to manage the list of desktops accessed by the users, and "Add credentials" functionality that enables users to connect to a PC automatically eliminating the repeated manual process.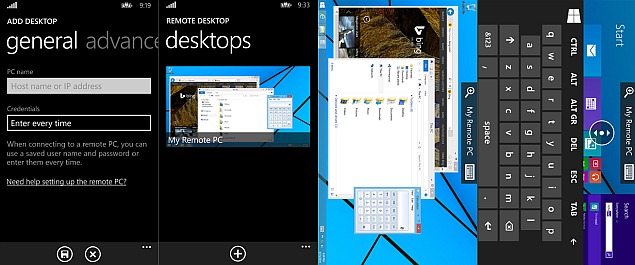 The app, when used to connect to a Windows 8 or Windows 8.1 machine, by default makes interaction possible via touch gestures and enables users to use the phone's default keyboard to type with.
However, when connected with Windows 7 and earlier OS versions, the default interaction mode is a Mouse Pointer that lets the smartphone screen act as a touchpad for PCs. This functionality has been already seen in the Google's recently launched Chrome Remote Desktop app for Android.
Furthermore, the camera hardware button on the Windows Phone 8.1-running smartphone acts as the Windows Key to show the menu (in Windows 7 OS and earlier) and as a switch key between the current app and the start screen (in Windows 8 and Windows 8.1 OS).
The Microsoft Remote Desktop Preview app is compatible with Pro or Enterprise versions of Windows 8.1, Windows 8, Windows 7, Windows Vista clients and with Windows Server 2012 R2, Window Server 2012, Windows Server 2008 R2, Windows Server 2008, Windows Server 2003 R2, Windows Server 2003.
The Microsoft Remote Desktop App for Windows Phone 8.1 OS is available to download for free from the Windows Phone Store.
Microsoft had launched its free Remote Desktop app for Android, iOS (iPad and iPhone) and Mac OS X, which allowed users to access their Windows devices and servers remotely. The app also came with the Microsoft's remote desktop protocol (RDP) and RemoteFX support.