Microsoft has finally detailed the features and improvements from IE10 in the debut version of Internet Explorer 11 for Windows Phone 8.1. The company had first announced IE11 for Windows Phone 8.1 at its Build 2014 conference in April, alongside the introduction of Windows Phone 8.1 itself.
The blog post details features for the current very limited number of Windows Phone 8.1 users. Microsoft notes that it will release separate posts for developers soon.
Primary change according to the company is the browser performance seen on IE11. The company has taken on two things, "First, you[user] need to tell the browser where you want to go, and second, the browser needs to get there as fast as possible."
To address the first, IE11 features a new address-bar URL predictions capability. It remembers favourite URLs and shows a possible URL with highlighted part. Also on faster browsing part, the company says it has made progress on the benchmarks (like SunSpider, Acid3, Octane, and others).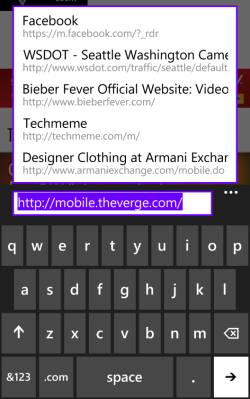 The IE11 also brings the unlimited multi-tabbed browsing, which means that company has removed the six tabs limit for the browser on Windows Phone. The ease of accessing both tab button and refresh button is taken care of in the update. Now the button next to the address bar accesses your tabs by default.
One much needed feature that has been added in IE11 for Windows Phone 8.1 is the ability to sync browsing data across phone, tablet, and PC. This include favourites, history, passwords, and open tabs. Also to make sure about the sync data limit, a user can define limit via DataSense app.
Other than the DataSense the new IE11 for Windows Phone 8.1 will now have High Savings Mode, which downloads only the most important pieces of the Web site and heavily compresses images. Users can choose to always enable High Savings Mode, never enable it, or keep it set to automatic.
With IE11 for Windows Phone 8.1, Microsoft says users can also pin their favourite websites, blogs like a live tile to the main screen, getting updated in the background.
Users will be able to watch video in high quality and simultaneously comment from the browser itself, says the Redmond giant. The video will also keep playing even if the screen is locked.
For the readers a new Reading View icon can be accessed from the address bar. This will remove the clutter and stitch all pages of the article together. Also while reading an article users can wipe to go back and forward.
Microsoft also claims IE11 also provides better privacy with
SmartScreen Filter
and
DoNotTrack
signal for a protected browsing experience. The IE11 browser for Windows Phone 8.1 has got some accessibility features like high remembering password, choosing location for downloaded files, contrast mode support, Narrator, and an override switch to allow zooming into all Web pages.