Microsoft has announced the addition of a new pre-render feature on its Bing search engine, which works in tandem with the company's new Internet Explorer 11 browser to display instant previews of the first search result.
"Today we are introducing an improvement available for Internet Explorer 11 (IE11) that helps you accomplish your search tasks even faster. The next time you perform a search in Bing using IE11, you'll notice that when you click on the top result, the associated page is almost instantly rendered. To achieve this, we leverage IE11's pre-render tag to automatically download and render the top result page in the background - it does this in a streamlined fashion taking care to not waste your bandwidth and battery life," said Microsoft.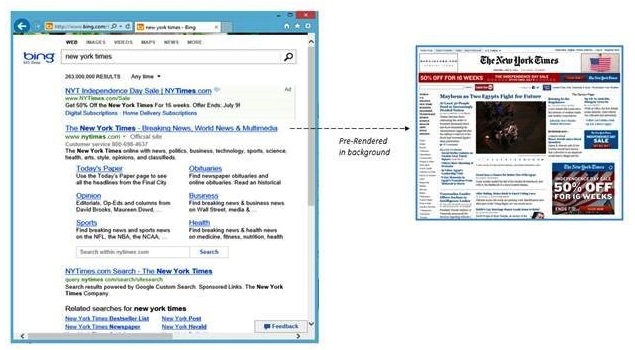 Making the
announcement
on Bing blogs, the Redmond giant informed that Bing will take advantage of Internet Explorer 11's pre-render tag to automatically download and render the top result page in the background.
It also clarifies that the process does not involve wastage of bandwidth or hit the battery life of devices.
Following the update, when a user enters a search term on Bing, the browser will automatically pre-render the first result in the search listing, allowing users to reach the desired page faster.
"With pre-rendering, you can now enjoy a faster end-to-end search experience, whether you are trying to navigate to a popular web destination (e.g. "New York Times") or looking for movie reviews (e.g. "Django Unchained reviews"). Because half of people click on the first result on the search results page, pre-rendering that page is an important addition in our quest to improve the overall task completion time," the company added.
Microsoft also informs web developers and site owners that they can leverage the pre-render tag to improve their own visitors' experience with their site. For example, they can pre-render the top article in the homepage or the next page in an article page to save the load time.
Microsoft had
recently made available the Release Preview of Internet Explorer 11 for Windows 7
, the next iteration of its web browser which is also part of Windows 8.1, the company's upcoming update to its Windows 8 operating system.
It had first
introduced the next-generation browser in June
with the release of Windows 8.1 Preview. The browser offers better touch performance, faster page load times and a continuous browsing experience across users' Windows devices. It's worth pointing out that the final version of the browser will be available later this year.