Microsoft said it is "genuinely sorry" for curtailing the free OneDrive storage last month, and announced that it will allow users to sign up to keep their 15GB of free cloud storage and additional 15GB of camera roll "bonus". The addition won't happen automatically, however, and users have until January 31, 2016 to opt-in. The company is not restoring the previous "unlimited" OneDrive storage plans.
Last month, Microsoft announced that it was curtailing the free storage it offers to every OneDrive user from 15GB to 5GB. As part of the announcement, the company capped the Office 365 unlimited storage to 1TB. The company blamed some users for it, noting that they were abusing the service, backing up multiple computers, and moving their DVR collection to the cloud. The announcement, as you could imagine, saw some user backlash.
A UserVoice post on the company's website, asking reinstatement of unlimited storage, received over 70,000 votes from users before OneDrive Group Program Manager Douglas Pearce closed the topic, noting the company was sorry for "frustration and disappointment" it caused to users. "We realise the announcement came across as blaming customers for using our product. For this, we are truly sorry and would like to apologise to the community," he noted.
The company on Friday announced that it is going to provide 15GB free OneDrive storage it had committed earlier to users. The company said it is giving "impacted" users an opportunity to get additional storage for a limited time. For this users will have to manually visit OneDrive website and opt-in. The forum post reads this offer is for Microsoft's "biggest fans who have been loyal advocates for OneDrive".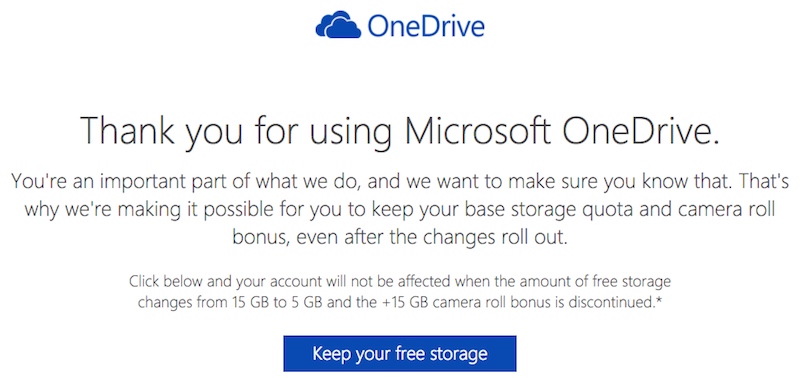 Also as part of the mea culpa, OneDrive users with a free account and more than 5GB of data on the cloud will also get a free Office 365 subscription and 1TB of free storage valid for one year.
Pearce also assured that non-business Office 365 subscribers - Home, Personal, or University, would receive 1TB of storage. Users who previously had received additional storage as part of company's unlimited offer would be able to keep the additional storage quota for at least 12 months. The company is also offering a full refund to any customer who isn't satisfied.
The company, however, isn't bringing back the 100GB and 200GB OneDrive storage plans. And the "unlimited" OneDrive storage tier is also not making a return.
For the latest tech news and reviews, follow Gadgets 360 on Twitter, Facebook, and Google News. For the latest videos on gadgets and tech, subscribe to our YouTube channel.
Related Stories