Instant messaging app Line, claims to have a user base of 300 million, worldwide. The company says that it has added 100 million users in just four months.
Line informs that out of its total user base,
it has 10 million users in India
, within just three months of officially entering the market. It's targeting 20 million users before the end of 2013. The company says that offering localised content and stickers featuring local celebrities enabled it to get traction among users.
It stated that it took the company 19 months to reach the first 100 million users, 6 months for the next 100 million, and 4 months between 200 million and 300 million users.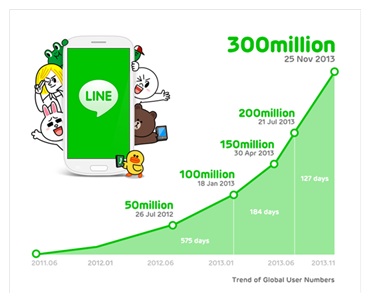 "We are extremely pleased to have achieved our target of 300 million users for the year in such a short time after clearing the 100 million user mark only in January. As the global market shifts towards smartphones, LINE has made its mark by providing value as a tool that stimulates communication through its expressive sticker messages, convenient voice and video calls, and games that users can enjoy with their LINE friends, setting it apart from other simple communication tools that merely function as text messengers," said Akira Morikawa, CEO of Line Corporation.
Line has a large user base in East Asia, and also in Hispanic regions such as Spain and Mexico. The company informs that it is focusing on the acquisition of new users in India, Turkey, and West European countries including France, Germany and Italy by conducting localised promotional activities and strengthening partnerships with local mobile network operators and device manufacturers.
"We will continue to explore all possibilities of communication in order to develop even more new features and constantly enhance our service quality. We aim to achieve 500 million users within 2014, and to develop Line into the world's top communication service," added Morikawa.
Line had
claimed to have 5 million registered users in the country
in July, just three weeks after its official launch.
Line is similar to other P2P mobile messengers such as WhatsApp, Viber, WeChat and Hike, but its USP is its stickers and voice chat features. It had also
added support for video calls
in September.
It's worth pointing out that there's no clarity if these numbers reflect only the registered users or monthly active ones. At an event in New Delhi, the company had told us that it reports total registered users. A report by TechCrunch also clarifies that the 300 million users are just registered ones as Line doesn't
report
monthly active users for markets other than Japan. Also, the service counts the same user multiple times if they use the service on different smartphones.
Line's biggest competitor, WhatsApp, claimed to have 350 million monthly active users at Nokia World, in October. It has also claimed to have a user base of 25 million in India, as per a recent
report
.