Line has updated its messaging app on Android and iOS platforms by introducing new encrypted and disappearing chat options, apart from some improvements to Timeline notifications, as well as a few design changes and bug fixes.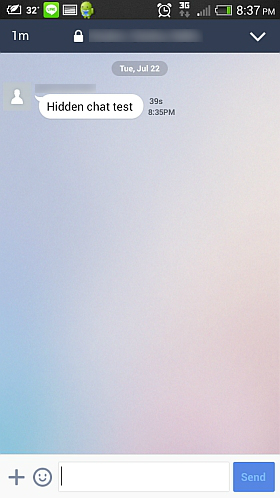 The encrypted chat option on Line can be found by tapping on the name of the user who is currently being chatted with in the conversation window, and then selecting the Hidden Chat option. Line says all Hidden Chats are encrypted. However, the option will work only when both users have updated their Line app to the latest version.
Line has also added a timer feature so that users can choose when their Hidden Chats disappear. The timer feature, just like Snapchat, lets users set a countdown timer for a message to self-destruct after a certain time. The timer options ranges from two seconds to one week.
The updated Line app can be downloaded from Google Play (v4.5.3) and App Store (v4.5.0).
The popularity of disappearing chat apps is increasing alongside the perceived need to better encryption in the face of spying. Facebook's recently-launched Slingshot app with Snapchat-like ephemeral messaging features shows even a major player taking cognisance of the trend.
Line, by also adding the encrypted chat option, seems to have made the right move when more and more users are becoming concerned about their online privacy, with government spying revelations each day.
Last month we even saw a considerable rise in the use of encrypted emails from big firms like Google, Yahoo, Facebook and others due to the same threat.
Other, smaller firms have already started giving an alternate route to users without the fear of exposing their privacy online. In May, ProtonMail, a new email service promising "end-to-end" encryption was launched. Also, last month, Blackphone started shipping to pre-order customers. The smartphone's customised Android 4.4 KitKat OS, called as PrivatOS, allows users to make and receive secure calls, send encrypted text messages, store files securely and browse the Web through an anonymous VPN.