After a run in with the Delhi government, earlier this week taxi aggregator Uber agreed to temporarily suspend surge pricing in Delhi for the duration of the "odd-even" rule. Opinion is divided on whether this is something that was justified or not, but Uber made it very clear that it is going to suspend surge pricing for now. In fact, Uber even sent an SMS to all users urging them to switch to uberPOOL, because the suspension of surge would hurt the availability of cars.
On Wednesday, Delhi CM Arvind Kejriwal said surge pricing is daylight robbery, but it's possible that Uber might still be charging a surge price; it's just not announcing it so visibly any more. That's what we believe based on reports on social media, as well as our own experience, after a fare estimate on Thursday, which was easily 2x of the normal fare we pay.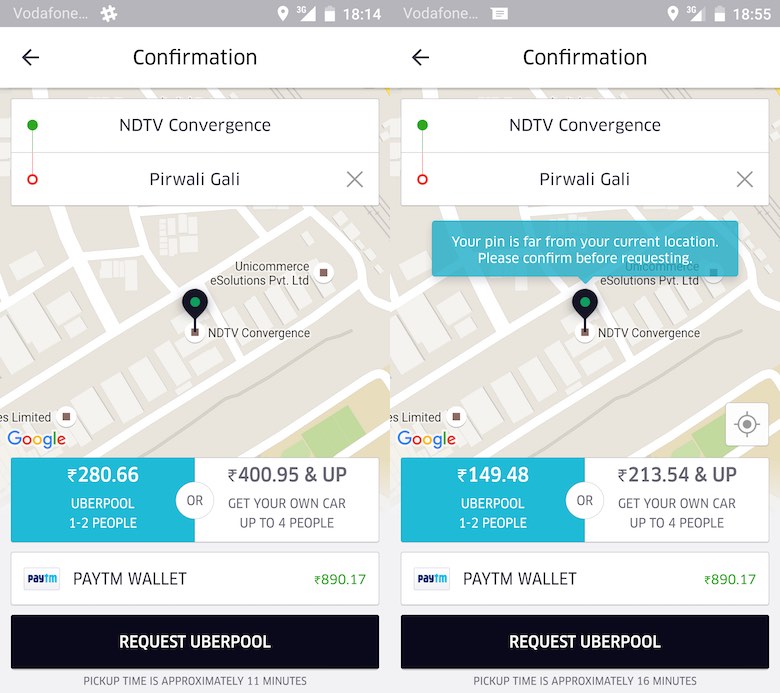 If you look at the picture above, there are two fare estimates given. The first, taken at 6:14PM on Thursday, shows a fare estimate of Rs. 280.66 on uberPOOL, and Rs. 400.95 on uberGO. This seemed unlikely, given that on this route we typically pay between Rs. 100 to Rs. 130 with uberPOOL, and between Rs. 160 to Rs. 180 with uberGO.
It's worth noting that around 6PM is typically peak time around this location as most of the offices in the vicinity start to close, with huge numbers of people leaving between 6-6.30PM. Thanks to the introduction of the odd-even rule, more of these people would be hailing cars, which is why we had gotten used to seeing Uber's surge icon on most days, before Tuesday, when the company announced that it was suspending surge. To test the theory, we waited for some time, and checked the estimate again at 6:55PM on Thursday evening.
The time was the only variable in this experiment - the pick up location and the destination were both the same; as you can see in the image, the estimate has also dropped dramatically. Around 7PM - when the peak demand would have ended, and any putative surge would have wound down - the fare estimate reads Rs. 149.48 for uberPOOL, and Rs. 213.54 for uberGO. In both cases, that's a ratio of around 1.9x - a number we see fairly often for surge on weekdays at 6PM. This isn't conclusive proof that Uber is lying about suspending surge, of course. There are other possible reasons. It could be a case of some issue in the system that showed the wrong estimate the first time. It could even be that surge was accidentally, temporarily, switched on, and is now off again. The problem is that we don't know what is happening.
We're not the only people who've noticed that the numbers aren't quite adding up either - on Facebook, several other people have been sharing similar experiences with Uber, while on Twitter, we came across people saying that their bill was higher than normal.
We reached out to Uber with our screenshots and an Uber spokesperson sent the following emailed response:
In this particular case, there was a GPS error on the request device as suggested by the pop up message on screen indicating that incorrect location coordinates were sent to our servers for the riders phone. Additionally, the fares shown in the app are an estimate which varies since they are calculated at different times which will have different traffic resulting in different predicted durations.
This doesn't seem plausible - as Uber was informed, the second screenshot was taken when we'd already reached home, so we had to manually enter our pick up location to recreate the scenario of the earlier screenshot. The warning on screen is a standard thing everyone sees when trying to book a cab for a point that's far away from the current location.
Second, Uber charges Rs. 1 for every minute of the journey in UberGo, so for UberPool you would guess the charge is the same at worst. A difference in fare of Rs. 130 between the two screenshots based on "different traffic resulting in different predicted durations" means we would've spent over 2 hours (130 minutes) extra on the road for a journey that takes anywhere between 40 to 50 minutes on most days without traffic seems rather improbable. For the record, it took us about 40 minutes to complete the journey in an auto when we left at around 6:15pm.
Or if, as the mail above suggests, the charge was because it was using our physical location for the pick up point, then, considering that this was also the drop off point, Uber's estimate was for a 0km journey, which doesn't make any sense either. We shared this feedback with Uber, but received no further clarifications.
All this brings back the main question that we have been raising about these services - without any kind of licensing, aggregators act as closed systems with zero transparency. The companies could be charging surge on all rides, and most people would probably not even notice. Whether or not you support surge pricing, charging hiked fares without informing customers and leaving everything to a mysterious 'algorithm' is a serious issue, and there needs to be debate around this.