Global mobile ad network
InMobi
launched miip, a discovery platform that drives e-commerce on mobile apps in Bengaluru on Wednesday. The company announced 15 Indian partners on the network including
Paytm
,
Amazon.in
, Nestaway,
Urban Ladder
,
MobiKwik
, and
Shopclues
at the event.
Naveen Tiwari, Founder and CEO of InMobi, said at the keynote presentation that advertising is a $600 billion (Rs. 38,28,030 crores) industry that thrives on practices users don't like, turning it into a race to see who can be louder. "Fifteen years ago, people had very little information. Today that's not the case. As consumers, we're used to snacking information, and have become ultra-efficient at it," he said. "As we re-imagine advertising, we imagined people loving advertising. Miip is fundamentally transforming advertising into moments of discovery for consumers."
Aiming to bring the window shopping network to the mobile phone, the platform claims a reach of 1 billion mobile users. Miip creates discovery zones within apps where users can find recommendations for products, and buy them without leaving the native app. The miip 'Buy' button has been embedded into over 40,000 mobile apps at launch.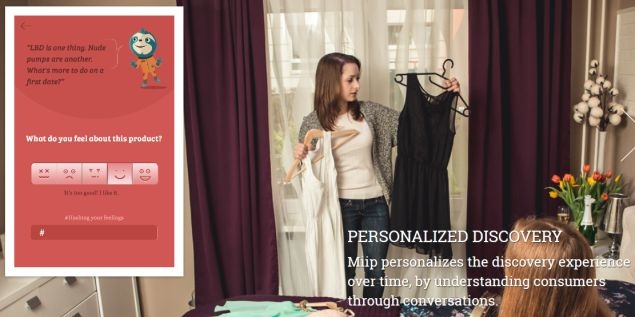 InMobi's discovery platform bundles into apps that aren't walled-garden experiences like Facebook or Twitter. According to co-founder Abhay Singhal, over 70 percent of time spent on mobile apps are on 'wild garden' experiences, which is where InMobi wants make inroads with their solution.
"InMobi has built a fundamental business and constantly innovated, across people, products, global operations and tech, in this dynamic ecosystem against giants like Facebook, Google and Tencent. Traditional advertising is a one-way monologue which fails to evoke trust. Discovery is broken for the mobile consumer. Search is not the only way to discover stuff in mobile," said Singhal at the launch event.
He cited the challenges for small development shops across the world citing the example of Subway Surfers, which scaled to 150 million users in six months, and said, "That company is a five member shop, they build a nice game, and now they want to monetize that game. How does he make money at scale, when he has users in a hundred countries?"
The firm has indexed over 100 million products and services, and recommends them to the user based on contextual information gathered about the user, the company claims that Indian developers can leapfrog to global monetisation levels in the next two years by bundling miip on their app.
The company showed different use case scenarios where developers in the messaging, weather, social and fitness categories could embed miip's discovery zone inside the app, providing contextual reconsiderations. A Game of Thrones fan for example, would get recommendation on GoT merchandise pulled from InMobi's partners. InMobi has tested the solution out with five million users over the last nine months, and claims to be six to seven times better than traditional advertising.
Miip's results are further contextualised based on feedback from the end user, allowing him to tweak the results presented. "Does this user need your information? If not, we're going to say no to it," said Tiwari. "That's a big statement, because the advertising world never worked this way," he added.
"The commerce revolution has definitely happened. There was e-commerce, then there was m-commerce, and now there's D-commerce. Miip essentially creates what is the largest discovery platform in the world." Miip reportedly has a reach 1 billion users globally and 120 million users in India, tracking 100 billion shopping sessions and 5 billion shopping experiences on a monthly basis. According to the company, discovery-based commerce will surpass intent based discovery by 2018, contributing to over 50 percent of mobile transactions in the next two years.
Founded in 2007, InMobi is the largest independent mobile ad business in the world, operating in 100 countries, and has 24 offices in 17 countries. InMobi's core platforms - 1.2 billion users, their data centres serve six billion ad requests a day, and store over 24 terabyes of data every day.