Google on 'Update Wednesday' has not only unveiled the new Chrome OS and shared some Chrome browser stats, but has also updated the Inbox by Gmail service. The update now gives you a better way to keep track of events, newsletters, and links.
The new Save to Inbox feature comes as a part of the latest app update and in simple words is just like the Pocket app where you save links to articles or other content to which you want to return later. To save all the links at one place as a bundle inside Inbox, Google has unveiled a dedicated extension on the Chrome Web Store. Once installed, users can simply click on the Inbox 'envelope' icon on the address bar and save the webpage opened at that time inside their Inbox by Gmail accounts.
They can later visit the account and see all the links inside the "Saved" bundle. However, unlike the Pocket app, this Save to Inbox feature directly navigates the user to the original URL instead of formatting it in a more readable view.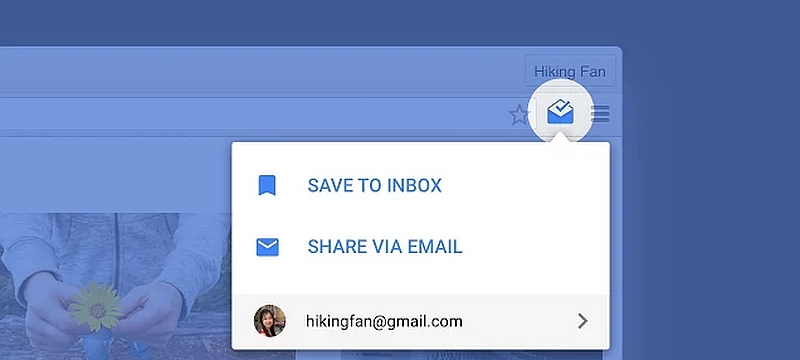 While the Save to Inbox extension is for Chrome desktop users, the feature is available for Android and iOS users as well. You'll need to tap on the share icon in the Chrome app, and save the link in your Inbox by Gmail account. The links can be accessed from the same "Saved" folder inside the email app.
In both desktop and mobile, if in case you have more than one Google account, you can also choose in which account the links are to be saved. You can also directly share the link via an email in which case it would open your chosen Inbox account along with a mail compose box with the link in the body asking you to simply add the senders email. Both the options are shown in the prompt box while saving the link.
The Inbox by Gmail update also makes it easier to preview newsletters and click through to the articles that interest you most. "And once you've taken a look at the latest, newsletters will minimise to save space in the inbox," says Pras Sarkar, Software Engineer, Google on the company blog post.
Lastly, the update makes it easier to keep track of events as well. The service would now bring all the single events together and shows you what's changed at a glance. Tapping on the event will show you the overview of other events at one place as well.
For the latest tech news and reviews, follow Gadgets 360 on Twitter, Facebook, and Google News. For the latest videos on gadgets and tech, subscribe to our YouTube channel.
Further reading:
Android
,
Apple
,
Apps
,
Google
,
Inbox
,
Inbox App Update
,
Inbox Update
,
Inbox by Gmail
,
Inbox by Gmail Update
,
Internet
,
Links
Related Stories