Highly popular online movie database, IMDb has crossed more than 40 million downloads on both iOS and Android platforms.
The apps, which debuted in 2012 share almost the same number of downloads on both platforms. Visits to both, its mobile website and apps have surpassed 150 million each a month over the past five months.
This accomplishment is highlighted by an update of the app, which brings along mobile-optimized message boards, check-ins, similarities, film locations and soundtracks.
The app offers an improved experience for users in the form of check-ins that allow them to share what they're watching via Facebook and Twitter. They can join discussions through Message Boards optimized for mobiles. Android users can now log in using their Amazon account. Metascores for movies is also provided courtesy Metacritic.com.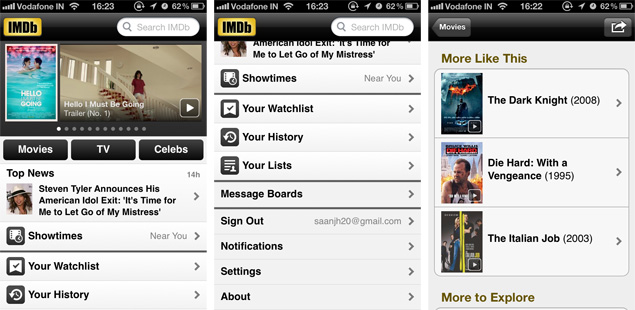 Users can also browse through trivia, filming locations and quotes from trailers of a particular movie. They can also along with film soundtracks. To add movies to their Watchlist, users can tap on a + sign on the A new feature called 'More like This' shows movies in related genres.
IMDb initially launched in 1990 and was later acquired by Amazon in 1998. It is an online database for covering a wide range of information on movies, TV shows, actors and more.
For the latest tech news and reviews, follow Gadgets 360 on Twitter, Facebook, and Google News. For the latest videos on gadgets and tech, subscribe to our YouTube channel.
Related Stories