A woman in Delhi was allegedly raped in an Uber cab which she had hired after having dinner in Vasant Vihar with friends. For many users, services like Uber and other competitors like Ola have been popular not just for convenience or easy availability of cars but also for the sense of safety that comes from knowing that your car is being tracked by GPS; after all, when you book the car, you can see it approach your location on the map while you wait.
(Also see: Delhi Woman Raped, Allegedly by Uber Cab Driver)
The truth however, is that these cars are not being tracked by standalone GPS systems that would be hard or impossible to disable by a driver - instead, going off the radar is apparently as simple as turning a phone off. That's because Uber uses a phone-based GPS system, which it uses to track its cars in much the same way that it tracks the location of a user.
In an earlier statement to NDTV, Uber said, "We became aware of the incident this morning. Safety is Uber's highest priority and we take situations like this very seriously. We are working with the police as they investigate, and will assist them in any way we can to determine what happened."

Now, the company has issued a new statement that said, "Upon being notified of this incident, our team immediately provided the local authorities with all relevant details, including driver [name, photo, bank verified address] vehicle [license, registration etc] and trip details."
However, Uber doesn't use standalone GPS systems fitted in the cars to track the vehicles. Instead, drivers say they are provided with (older model) iPhones that have the Uber app loaded on them. This app is a little different from the version which consumers use.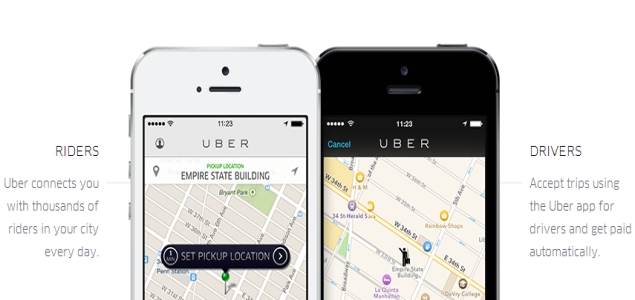 The shows customers asking for taxis as the requests come in and the drivers get only about 10 seconds to decide if a passenger is at a place that's worth picking up, according to a former Uber driver.

In its statement the company points out that in India Uber exclusively partners with registered for-hire drivers who have undergone the commercial licensing process, hold government issued IDs, state-issued permits, and carry full commercial insurance.
It did not clarify whether the documents submitted are verified, or how - we have again asked Uber to clarify its background checks.
Based on the company's website, signing up to drive for Uber is a simple process - you need to enter a few personal details on the site, and submit your documents. After that, the company will contact you when you're approved, and provide you with a phone with the app loaded. That's all that's explained on Uber's site - background checks (if any) are not listed on the site.
Since the tracking is done solely through the phone, turning the phone off, or even something as simple as deleting the app from the phone will take the car off Uber's radar. Of course, Uber acts as a platform, and does not own the cars in its fleet, connecting users with private taxis instead.
In contrast, competitors like Meru have GPS systems in their cars, which are used not just for tracking the cars but also checkin to ensure that they are not speedin. The company has also installed a panic button on the Meru app that customers use, which can alert two trusted numbers, and show the user's location on a map.
While this small change could have prevented this tragedy from happening, the bigger question is whether the suspect's phone was really not registered in his name.
Uber and other are supposed to carry out thorough background checks into the credentials of the drivers working for them. Without that, the safeguards mentioned in Uber's statement, such as driver and vehicle information, as an eyewash at best.

Affiliate links may be automatically generated - see our ethics statement for details.