Last year, a consortium of German carmakers
came together
to buy Nokia's mapping business - Here - for EUR 2.5 billion (roughly Rs. 17,523 crores). Now, the Here Maps app on Android and iOS has been rebranded as 'Here WeGo' and several new features and design tweaks have been added to the app as well.
The rebranded app has done away with its 'find a route' icon and now directly takes you to choosing the mode of transport after selecting your desired destination. The company says that this has been done to save its users time by getting them straight to the primary function of the app.
HERE WeGo is already available for Android and the new functionality will also be added with an upcoming iOS update, the company said on its blog.
The most number of changes with the latest update can be seen on the 'Route Comparison' screen of the app where new transport options from car-sharing firm Car2Go are now added beside the already existing car, public transit, cycling, and pedestrian options.
These options will only available in the cities where Car2Go operates and the new app provides you with an in-app option of booking a car on the spot as well.
"We will be adding taxi information for more cities and more car sharing services over coming months," the company said.
The bicycle routing has also been improved with the update and now includes elevation profiles to judge the amount of effort required to reach the required destination.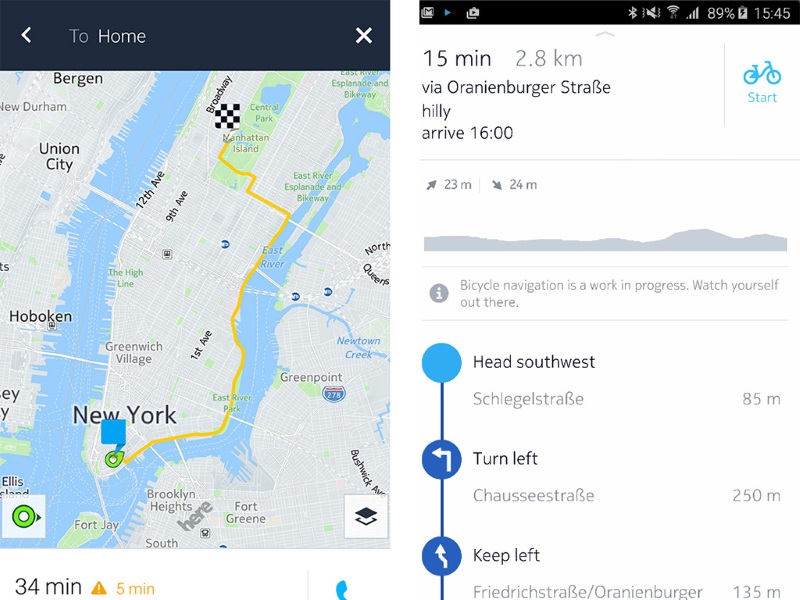 The mapping company said that as there is more information on the screen, the app has now been provided with a lighter coloured background that aids readability and also lets the new icons shine a little more.
"We're in the midst of a massive change - a mobility revolution - and the new app reflects this," the company's Director of Consumer Experiences Patrick Weissert was quoted as saying in its official blog.
Most of the new features for the mobile apps will also be made available on company's Web app soon and its default web address will become
herewego.here.com
, the company said in its blog.