Mumbai-based personal assistant app Haptik on Tuesday announced a partnership with Ola that will extend cab booking functionality to its app.
With Ola opening up its API to Haptik, the integration is live on the app - it requires the user to fill in the address details to enable the functionality.
Cab bookings can be made through the travel channel, by tapping on the task menu. A Haptik Assistant then confirms the user's location, and finds the nearest cab available around them, and makes a booking, combining AI and human inputs on the backend to enable the booking.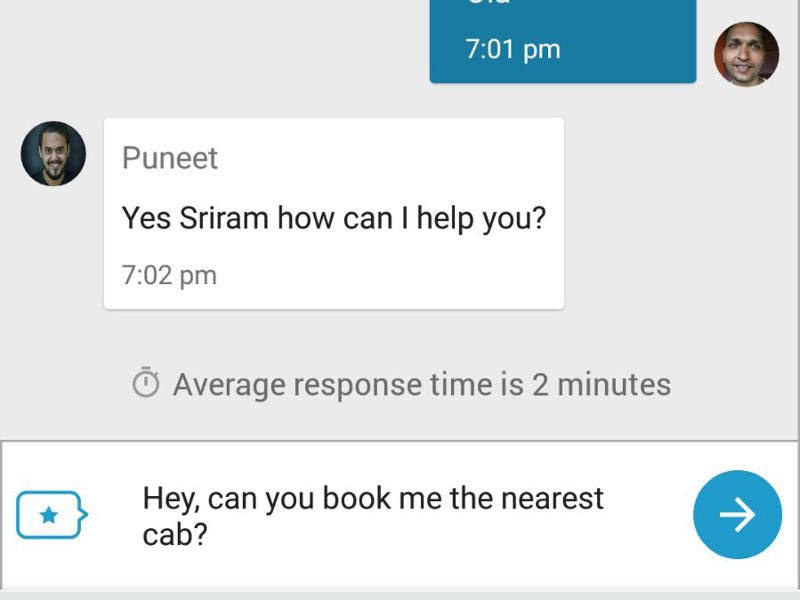 The partnership will allow users to book cabs end-to-end with a simple message on chat, on Haptik's Personal Assistant app across any of the 102 cities that Ola is present in, Haptik said.
"Through this first of its kind integration, users can now book a cab end-to-end over chat on the Haptik app," said Sudarshan Gangrade, Vice President of Marketing at Ola said in an emailed statement.
The integration is not actually the first of its kind - Niki.ai, an AI-powered bot, currently lets uses book cabs on Ola and Uber. Haptik has previously partnered with redBus for bus ticketing, and ClearTrip for flights and hotel bookings.
(Also Read:Roundup: Indian Apps to Outsource Your Everyday Tasks)
"As a full service assistant, one of the most common requests we get is to book cabs", said Aakrit Vaish, CEO and Co-Founder, Haptik, which claims to have over 500,000 unique users.
Founded in 2013 by Aakrit Vaish and Swapan Rajdev, Haptik has raised $1 million (roughly Rs. 6.6 crores) from Kalaari Capital so far.