Google's Now on Tap was one of the highlight features of Android 6.0 Marshmallow introduced last year. It is a Google Search feature that gets triggered when a user holds the home button of the device running Android 6.0 Marshmallow and offers contextual information around the topic mentioned in the screen currently open. It works within any app and automatically searches the context present on the screen by just long pressing the home button.
Google on Wednesday updated its Now on Tap adding new capabilities including system-wide dictionary and search by image. With the latest update, Google Search can now help users with right information by just selecting the text on the screen and Google will offer its definition as well as links to any relevant apps. Google says the new update to Now on Tap is 'available everywhere' though notes that word definitions will be currently available in English only. It says other languages will be rolling out over the coming weeks.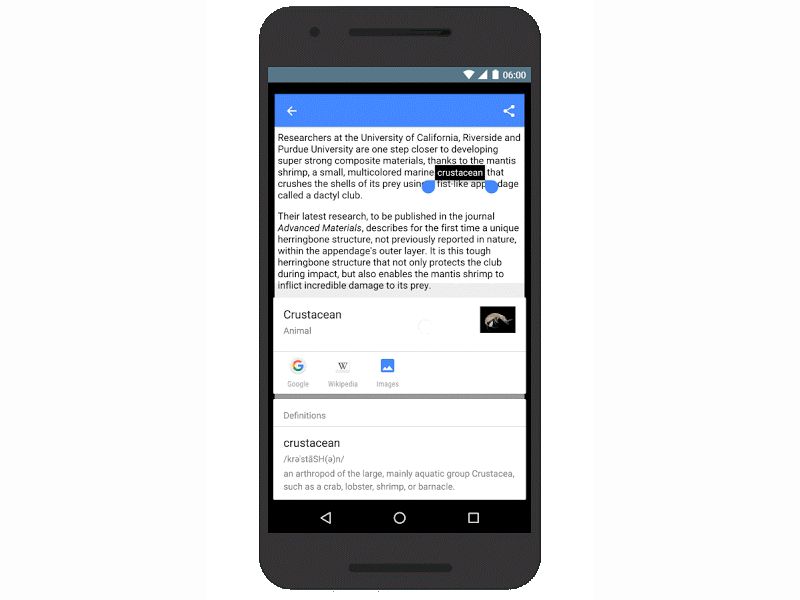 The update to Now on Tap also adds the second capability where users can find a location seen in a photo by simply touching and holding the home button to get a card with more details. Aneto Okonkwo, Product Manager, Google says that the features works across all apps.
Additionally, Google will also provide real time contextual information by using the camera app. The company explains that users via their camera app can get more details about what they are looking at.
Google gives an example of the Bay Bridge, if a user stands in front of the famous structure and opens up the camera app, touch and holds the home button, Now on Tap will offer info card about the structure alongside deep links to relevant apps. Okonkwo explains that this feature works for more than just famous structures.
For the latest tech news and reviews, follow Gadgets 360 on Twitter, Facebook, and Google News. For the latest videos on gadgets and tech, subscribe to our YouTube channel.
Related Stories