Google will remove the Chrome desktop notification centre in the upcoming version of the browser. The search giant said not many users visited the notification centre and some disabled it, which made the feature pointless. It was introduced in 2013. The company also rolled out Chrome v46 for Android, Windows, Mac, and Linux platforms with bug fixes and security improvements.
As per Justin DeWitt, Software Engineer, the upcoming Chrome version would be completely eliminating the desktop notifications option from Windows, Mac, and Linux. However, the feature would still be there in Chrome OS, adds DeWitt on the Chromium blog post. The company has also given link to the new notification documentation for developers that shows "changes that will affect Chrome app and extension developers who send notifications to the centre."
In the upcoming release of Chrome, notifications sent to the notification centre would result in an error "and API events tied to the center will no longer fire." Other notifications would however, work normally. "With the growth of Web push, notifications are an increasingly important way for users to engage with web pages they care about. By streamlining the experience on desktop, Chrome can ensure a simple notification experience on every platform," the blog said.
Google also rolled out Chrome v46 for Android, Windows, Mac, and Linux with several bug fixes and security improvements. The updated browser would start marking HTTPS websites with minor errors with the same blank page icon used for HTTP websites. Earlier these pages were marked with yellow caution triangles. As per the firm, it is a better indication for security. However, the secured HTTPS pages, regular HTTP pages and broken HTTPS pages icons would stay unchanged.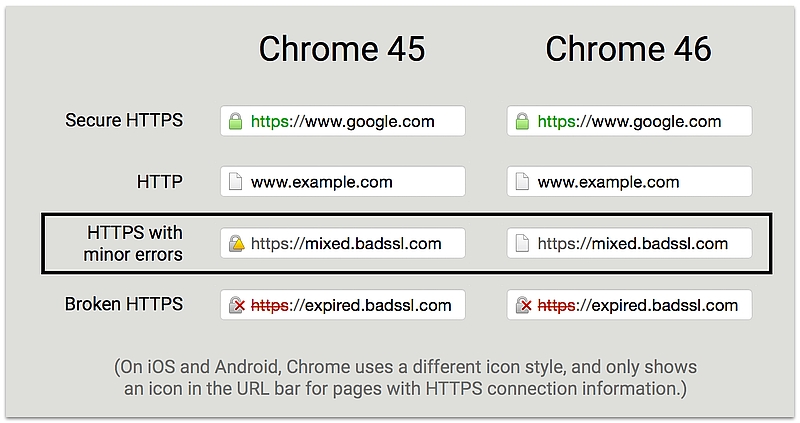 Introducing the new icon placement for websites, Google expects more HTTP site operators to shift to HTTPS. "We have to strike a balance: representing the security state of a webpage as accurately as possible, while making sure users are not overwhelmed with too many possible states and details. We've come to understand that our yellow "caution triangle" badge can be confusing when compared to the HTTP page icon, and we believe that it is better not to emphasize the difference in security between these two states to most users. For developers and other interested users, it will still be possible to tell the difference by checking whether the URL begins with https://," the Google Online Security blog post said.
In desktop versions, Google has also removed the OK Google hotword detection for voice search, a feature introduced with Chrome 35 in May last year. "In Chrome 46, we'll be removing the ability to use the "Ok Google" voice action on Chrome for desktop as we haven't seen many users utilize this feature on these platforms. Voice search will still be available on the New Tab Page and for any google.com pages when you click on the mic icon. Note that this feature is still available on Chromebooks," said Google community manager Kameron M in a Google Chrome Help Forum post.
For Android, Chrome v46.0.2490.76 improves the performance as it now uses new optimized image loading and service tools. Developers can also animate a graphical content "along an arbitrary path declaratively as a CSS property." These features were introduced in Chrome 46 Beta last month. The complete list can be seen in the company's blog post. The updated browser app would be available to download from Google Play in next few days.