Google last week rolled out Chrome 50 stable version on desktop and it is celebrating the milestone by boasting some numbers it has achieved until now. The search giant has also unveiled the Material Design refresh for Chrome OS.
"Chrome reached a pretty big milestone this week - its 50th release! We originally launched Chrome to give users a fast, simple and secure browser. That still remains our mission today. And while there's still much more to do - especially with the shift to mobile and providing a great experience for people using the mobile web for the first time - we thought we'd take a step back and reflect on our journey so far," said Rahul Roy-Chowdhury, Director and Stats Stockpiler in the company blog post on Wednesday.
The post highlighted that there are now 1 billion monthly active Chrome users on mobile. Some of the other Google apps and services that are in the 1 billion+ club are Google Play, Maps, Search, and YouTube.
Other monthly Chrome statistics shared by Google include 771 billion page loads, 500 billion characters not typed because of autocomplete, over 2 million GB of data saved, 3.6 billion pages automatically translated, 9.1 billion forms and passwords autofilled, and protected users 145 million times from malicious web pages. The search giant said it also gave more than $2,50,000 in rewards to the research community who help strengthen Chrome.
The Chrome 50 browser for Android still is in beta tests for now.
Meanwhile, Google announced that its Chrome OS will be the first to adopt the Material Design revamp, before Chrome the browser gets it. According to Sebastien Gabriel, Senior designer at Google, the project took a year and involved "redesigning Chrome core UI from the ground up for all desktop platforms." He said the team has now completely removed the 1200 png assets to entirely render it programmatically.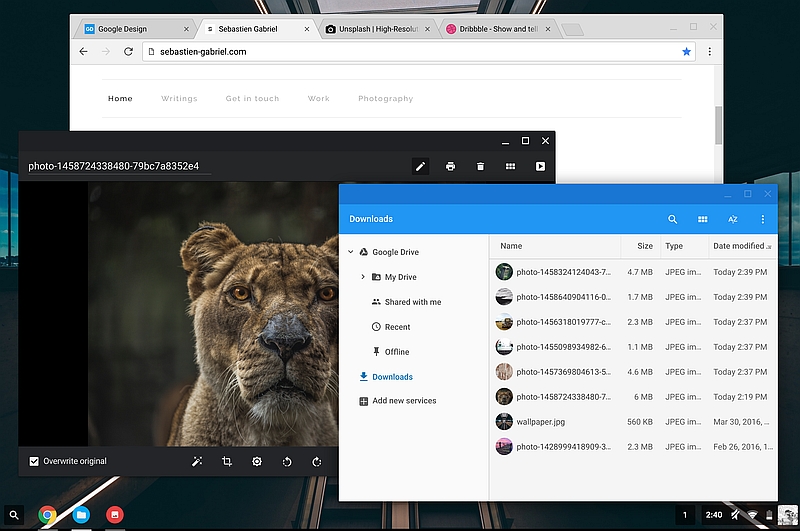 Some of the changes in the revamped Chrome OS include a new default theme, overhaul in Incognito theme with a new dark colour, revamp of tab shapes, icons, and omnibox to match mobile, Material Design ripples and morphing buttons states introduction, new colour with more accessible colour scheme, along with new info bars and buttons. The details can be found in a dedicated blog post.
Google has also brought something called hybrid alternate layout that is easy to use for touch-enabled and convertible devices - one of the USPs of Chromebooks. The new layout will activate automatically by default in touchscreen Chromebooks. Users can also manually enable it by navigating to chrome://flags.