Google might soon roll out a new version of the Google Play app (v5.0), guided by the company's Material Design concept, if the latest screenshots from a leaked early build are to be believed. The company seems set bring more a more vivid palette of colours to its already Material Design-inspired Google Play app, along with a richer visual feel.
The yet-to-be announced Google Play Store 5.0 might flaunt a reworked top bar that merges the section name (for example - Movies, Games and others) with the category tabs like Top Releases, New Releases, Home and others, as seen in the above screenshot. All the Google Play sections namely Apps, Games, Movies, Books, and Newsstand are also seen with the new colour palette combinations that are brighter and more vivid than the current version.
The Mountain View, California-based tech giant, focusing more on the card-based design, seems set to tweak the Google Play app design with the same colour treatment for accents and buttons (seen below), visibly different in the screenshots of the leaked early build sourced by Android Police.

Android Police also notes that promo pages will receive a visual revamp in the store, with the example of Google's Antenna Sampler, a monthly sampler of free tracks from upcoming artists, has also been given a visual boost (seen below). Minor animations, for instance, 3-line icon changes to a 'back arrow' icon on interaction, might also see the light of the day.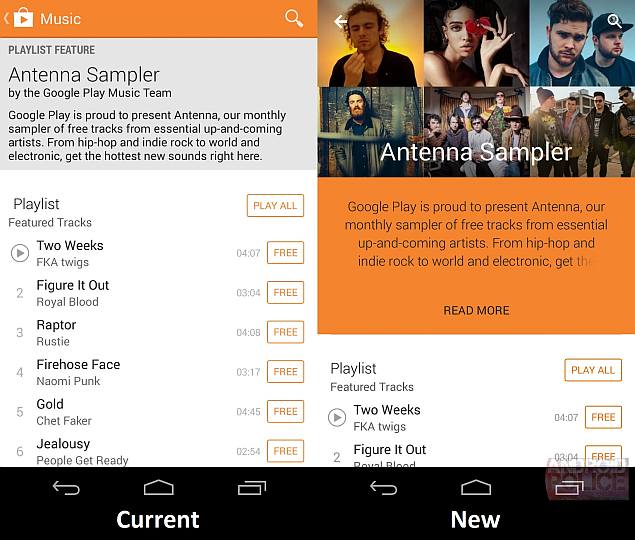 While the changes are not a major overhaul over the current version of Google Play, they are completely in-line with the 'Material Design' philosophy of the upcoming Android L, which might be officially named as 'Lemon Meringue Pie'.
The website also discovered some new Material Design-inspired Google Play app icons for Music, Movies, Books, Newsstand along with a new Google Play Store icon (seen below), within the files of the app.
In addition, the per-device restoration feature, which was discovered previously by the website, was seen with some changes in the latest string files of the Google Play app. The string files hints a feature that would enable users to choose a device profile (smartphone or tablet) from where a predefined set of apps can be restored when setting up a new device.
While Google is yet to confirm any of the details mentioned above, the screenshots and the information gathered from the leaked early build cannot be completely ignored, and do indicate a direction the search giant is looking into. The release date of the Google Play Store 5.0 or the new restoration feature is still not known.