Google on Monday has announced the updated Google Play services 6.5 for Android developers that includes several new features for Google Maps, Google Drive, Google Wallet, and Google Fit APIs. The company said that it will be rolling out the new Google Play services 6.5 over the next few days, and will make the SDK available once the rollout completes.
The biggest new addition in Google Maps Android API is the maps toolbar that lets users get directions and turn by turn navigation without leaving the third-party app. The Google Play services 6.5 also brings the new 'lite mode' map option in Google Maps API.
"A lite mode map is a bitmap image of a map at a specified location and zoom level," explains Google's Android Developer blog.
With Google Drive API, developers can add both public and private custom file properties to Drive files for improved search and information that can be used across editing by other apps. It has further included user and battery friendly syncing of Drive files with better file control for "when files are uploaded by network type or charging status and cancel pending uploads."
For Google Wallet, the Google Play services 6.5 brings a new 'Donate with Google' button to make donations easier, alongside the existing 'Buy with Google' button.
For the recently launched Google Fit SDK, the company has made it easier for developers to add activity segments (predefined time periods of running, walking, cycling, etc) when inserting sessions, which makes it easier to pause or track multiple activity types. Google also promised to add new samples to guide developers on Google Fit integration for their apps.
Android Police notes the Google Play services 6.5 for Android 5.0 Lollipop devices also adds the 'Trusted places' option in the Smart Lock menu. With the new option, users are said to choose a trusted place, and their device will remain unlocked in that area. Users will also be able to set trusted places with toggles for Home and Work location in the Trusted places menu using Google Maps.
Meanwhile, Google has updated its Play Music app for all Android users. The version 5.7.1717Q (in India) rolled out to Google Play on Monday.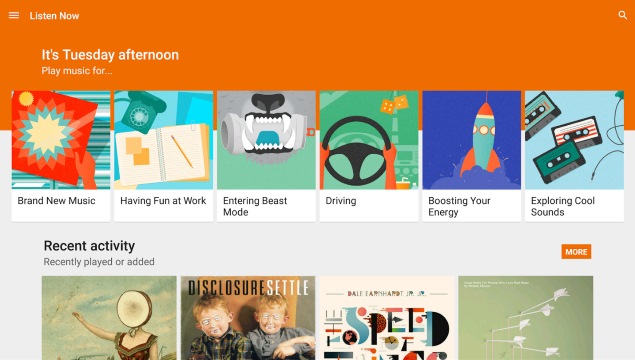 The update for Google Play Music brings a new Listen Now feature that shows recently played music and improved recommendations. The new landing pages in the Play Music app now also show descriptions of albums and playlists.
The Google Play Music update (All Access only) brings new radio stations based on mood or activity like 'napping', 'jogging', dance party' or 'brand new music.'
Additionally, for developers with the ADT-1 developer kit, the Play Music app includes "a banner on the Leanback Launcher." According to Android Police, users with Nexus Player haven't been left out with this update, and they will also get access to a list of recently played tracks and recommendations.