App ranking and analytics firm appFigures has revealed that Google's Play store in 2014 jumped ahead of Apple's App Store in terms of the total number of apps for the first time, with over 1.43 million apps compared to 1.21 million. The report also claims that Google's Android developer community grew faster than Apple's iOS counterpart for the third year in a row.
(Also see: Third-party App Stores Go Where Google Play Does Not)
In a report titled "App Stores Growth Accelerates in 2014", the company has published a growth chart showing how the three major app stores - Amazon Appstore, Apple's App Store, and Google Play - placed themselves in terms of number of apps. The firm claims that Amazon's Appstore despite being the third showed a growth of nearly 90 percent to reach 293,000 apps.
With Google Play visibly behind Apple's App Store at the end of 2013 (as seen in the above charts), and it now being ahead, it is implied Google added more apps than Apple in 2014. appFigures adds that this was the first time Google Play added more apps in a year than Apple's App store.
The report also reveals the number of app developers who published apps in the different stores. "Google Play's developer community grew tremendously in 2014, exceeding Apple for the 3rd year in a row. In fact, Google Play is distributing apps from nearly 400k different developers," it added. In 2014, Google saw more developers joining than Amazon and Apple combined, says the report.
(Also see: Google Play Downloads Now Exceed Apple App Store's by 60 Percent: Survey)
Currently, Google Play has 388,000 developers compared to Apple with 282,000 developers and Amazon with 48,000 developers, adds the report. Additionally, Google also saw a rise in Android apps released in 2014 with more developers releasing their apps on Google Play than Apple and Amazon combined. appFigures claims that Google Play doubled the number of apps in 2014.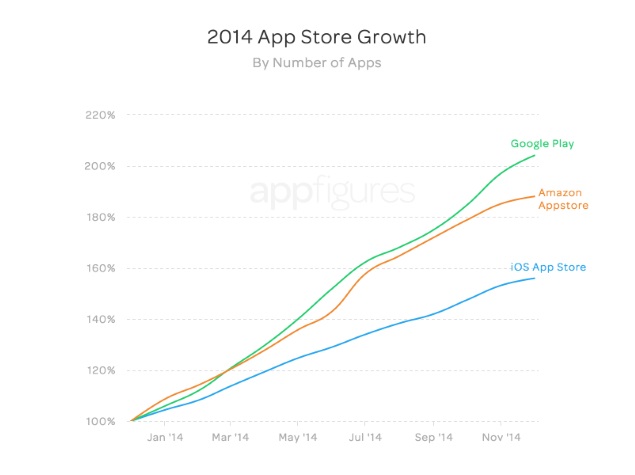 The report points, "In 2014, all three app stores grew by at least 50 percent (by the way, when we say growth we mean the percent change from the end of the previous year). What's interesting is that although Apple continues to grow strongly, it's really Google Play that's growing. In 2014, the number of apps distributed through Google Play has doubled."
(Also see: Google Play leads App Store in downloads, catching up on revenues: Report)
The top five categories with most growth (in terms of number of apps) during 2014 saw the App Store adding more business-related apps, while Google added saw the most growth in the games category.
"It's no surprise that Apple developers, much like their Google counterparts, are focusing on mainstream apps," adds appFigures, citing the top five categories with most growth in terms of developers.