Google has reportedly increased the time in which users can ask for a refund after purchasing a paid app or game from the Google Play store. The time was found to be around 2 hours, instead of the official 15 minutes noted in Google Play's support pages.
After numerous rumours about a longer refund-window on Google Play, the team at Android Police carried out a test to see just how big the refund-window actually is. Three members of the team bought apps from Google Play, and restarted their devices after the 15-minute mark. Instead of the 'Refund' button disappearing in 15 minutes, it stayed active nearly for 2 hours. The team also took took screenshots of the app listing page on the store from the time the app was purchase to the time the refund button finally disappeared.
As seen above, one of the team members had purchased 'The Game of Life' app for $0.50 at 9:50am PST on Thursday July 31. While the user should only have been able to get a refund within 15 minutes of the purchase, the Refund option was available till 11:48am, before it finally disappeared at 11:51am and changed to the Uninstall option.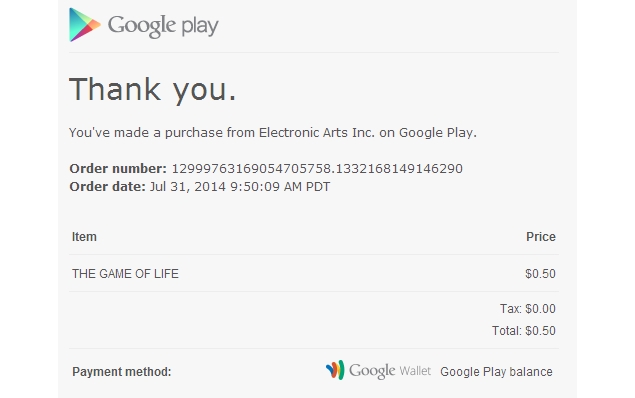 There is no official documentation from Google about the new refund-window, and the Google Play support page still lists a 15-minute refund-window, which Google had first put in place back in December 2010 - changing it from the existing 24-hour refund-window.
While it's not known whether Google is actually testing a new refund-window or not, the report also included Google's response to the news, "[We] only advertise a 15-minute refund window, that is the guaranteed window for a user, but [we] do extend the window in some cases to account for download times."
Though Google's answer seems plausible, Android Police notes that its team had downloaded apps of various sizes, even some smaller than 1MB in size, which all displayed the same 2-hour refund-window. Also noted by the team was that most apps were also run almost immediately after being downloaded, further negating Google's download time explanation. The search giant appears to be uncomfortable disclosing the real reason for the increased refund-window.
For the latest tech news and reviews, follow Gadgets 360 on Twitter, Facebook, and Google News. For the latest videos on gadgets and tech, subscribe to our YouTube channel.
Related Stories