App ranking and analytics experts App Annie published its regular market index report for Q1 2014 on the global app market on Wednesday which shows that the Google Play store revenues are growing fast, while its global presence means that it has a huge lead over Apple with 45 percent more downloads. Apple probably doesn't have to worry just yet, as the report states that iOS apps still generate a huge 85 percent more revenue than apps on the Google Play store.
There has been a long held perception that only free apps are successful on the Google Play store, and if you want to actually make money from apps then you should be targeting iOS. There might be some truth to this, given Apple's huge lead in revenues, but the revenues on the Google Play store are also rising fast, growing by 55% quarter to quarter according to the App Annie report, as the Android markets mature.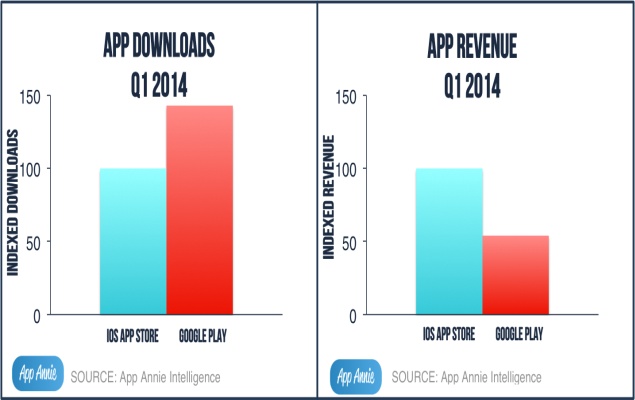 A lot of the growth in the Android download numbers is being led by emerging markets like Russia and Brazil, but the report states the Mexico and Brazil have also had a strong influence in this quarter. However, as Android closes the gap with iOS even in markets like the US and the UK, Google Play revenues in those markets is also rising markedly. While Android has made gains in the west though, China has been a major growth area for iOS, and App Annie recorded 70% quarter over quarter growth from China.
Perhaps unsurprisingly, one of the big growth areas on both Google Play and the App Store was messaging apps. The WhatsApp phenomenon has clearly made an impact, but aside from that, the category as a whole saw a large number of downloads on both iOS and Android.
Games are still the biggest revenue generators on both app stores though; they generated 75 percent of App Store revenue, and 90 percent of the revenue on the Google Play store.
Interestingly, in India, the top apps don't follow international trends very closely, with IPL and Jabong being in the top free apps. Top grossing apps were more typical, with Candy Crush Saga, Clash of Clans and Boom Beach in the top three spots, though number four is a Teen Patti app. Interestingly, the Google Play store was more typical, with international apps topping in all categories, except for top grossing, where the number one app was Teen Patti. You can see the app matrix in detail here.