Google Play has once again outpaced Apple's App Store in app download numbers, as per the latest year-in-review for 2014 by App Annie, a data-tracking firm. However, in terms of monetisation or revenue generation, App Store is still far ahead of Google Play.
According to the report, Google Play had 60 percent more app downloads globally than the App Store in 2014. The large number of downloads and disparity with the iOS system is quite obviously due to the wide reach of Android smartphones and tablets across the world.
However, in case of revenue generation, the report finds that iOS users spend more. The table shown by App Annie (seen below) suggests a consistent rise in revenue on both the platforms, but the App Store still generated 70 percent more revenue than Google Play in 2014.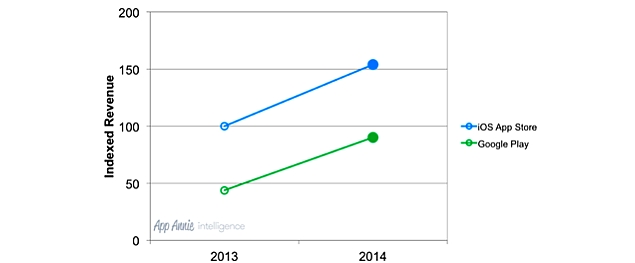 The report states that App Store generated a huge chunk of revenue from its key markets - US, Japan and South Korea. The three regions together generated more revenue than the rest of the world combined. Overall, the BRIC countries namely Brazil, Russia, India and China performed well, and nearly doubled their revenues, says App Annie.
According to VentureBeat, Apple is able to generate more revenue from apps because it has a long history of collecting and keeping credit card details of users. The first service was started almost a decade ago with its iTunes Music platform. Also, Google Play apps download growth is dominated by free apps like Flappy Bird, Clash of Clans and others, which don't make much and depend on in-app purchases and advertisements for their revenue.
It is worth mentioning that Monument Valley, a popular paid puzzle game for mobile devices, recently mentioned (via Recode) in its blog post that almost 81 percent of its total $6 million sales came from iOS.
For the latest tech news and reviews, follow Gadgets 360 on Twitter, Facebook, and Google News. For the latest videos on gadgets and tech, subscribe to our YouTube channel.
Related Stories