Google earlier this month rolled out an
update for its Google Search
(aka Google app) bumping the version to 5.3. The company also announced some improvements to its Voice Search last week claiming that the feature would now use
less computational resources
, will be more accurate, faster, and robust. The company may have also enabled a new offline voice-command feature which is said to work for some functions without the need of an active Internet connection.
Some users are reporting that the latest Google app now allows them to perform certain voice-search functions without an Internet connection. A screenshot shared by a Google+ user shows the Google app offering "Offline voice tips" with a description that read, "you can still tap the mic, then say", when trying to search without an active Internet connection.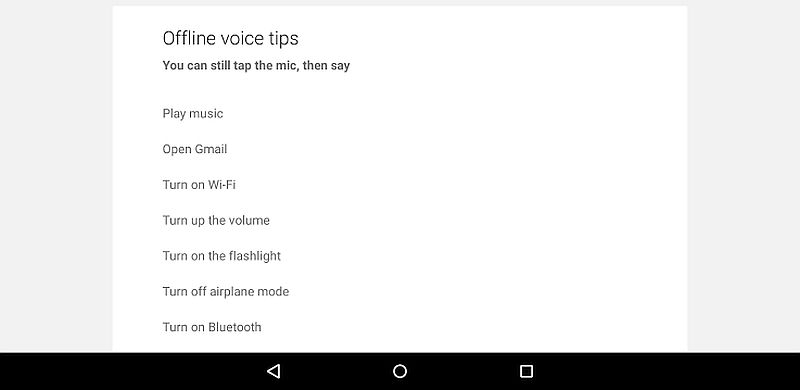 The list of suggested offline commands included Play Music, Open Gmail, Turn on Wi-Fi, Turn up the volume, Turn on the flashlight, Turn on airplane mode, Turn on Bluetooth, and Dim the screen.
Android Police points out that the Open offline command can be used for any app that is installed on the device. While the 'Turn off' command will work for all functions that can be accessed by 'Turn on' command.
Until now, the Google Search use to throw "Something went wrong" message when trying to use the voice-command feature in offline mode.
The Google app version 5.3, which started rolling out earlier this month, brought the Now on Tap feature which provided contextual information to users within apps garnered much interest. Apart from Now on Tap for Android M users, the updated Google app brought changes to the Google Now launcher as well - adding a vertical app drawer layout for apps and widgets.
For the latest tech news and reviews, follow Gadgets 360 on Twitter, Facebook, and Google News. For the latest videos on gadgets and tech, subscribe to our YouTube channel.
Related Stories