Google has started rolling an update to its Google Maps application with some much-awaited features. The updated app for Android that has been bumped up to version 9.16 focuses on the navigation service, reports a publication that got its hands on the app early. Apart from searching for new destinations or quick stops along the route, users can also side-track during a trip to gas stations, restaurants, cafes, and shopping marts.
When in a navigation mode, you would now be able to search and choose particular destinations that fall near the main route. Four options namely gas stations, restaurants, grocery stores, and coffee shops can be seen by tapping at the three-dot overflow button placed at the bottom right corner of the screen, and further tapping on "search along route". The feature can also be triggered by tapping at the search button on the top right of the Google Maps app.
It is worth mentioning that the search button at the top right replaces the microphone icon (for voice actions) seen in the previous versions of Google Maps. However, on tapping the search button one can see the "search for more places" option alongside the four other options mentioned above (seen above).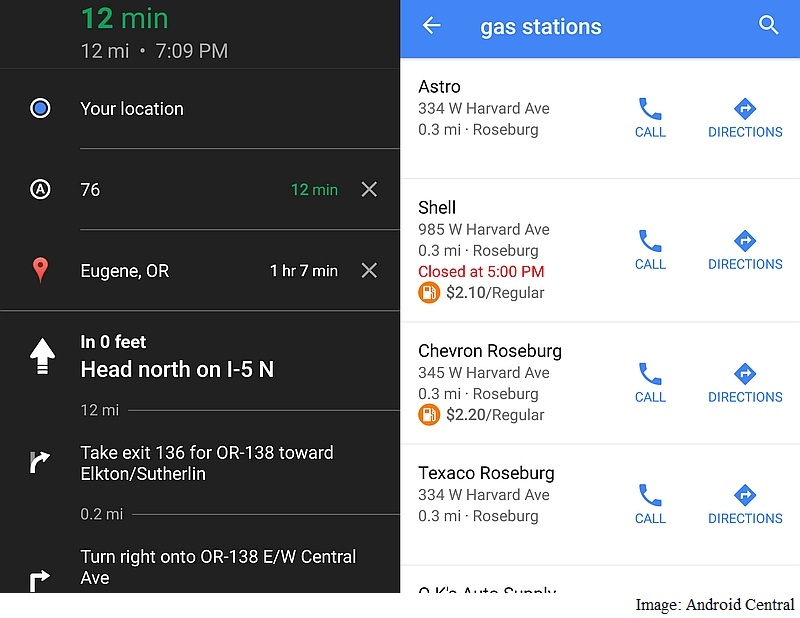 The "search for more places" button fires up the regular search screen. On typing in it, the results are shown in an overview map alongside the names and how much time it would add to your original route. Furthermore, on choosing the gas stations option, you would also be able to view the current prices (seen above) in the callout boxes. However, the price details are not available for all the stations,
notes
Android Police.
Panning and pinch-to-zoom gestures are included to view more or less options along the main route. When a quick stop is selected, you would only see the option to remove it on tapping the overflow button. The search button at the top right would give option either to remove it or search for a new one.
The quick stops would also appear in the written directions inside Google Maps v9.16 as a destination. However, only one stop can be chosen for now. The OTA update for the latest version might take time to reach all the regions. It is not yet listed on Google Play. For those who don't want to wait, they can manually download the Google-signed apk file and install it.
Unfortunately, some server side settings also appear to be involved, with region-specific limitations, as Gadgets 360 was unable to see the new features on the updated app.