Google has updated its Google Maps and YouTube apps for iOS, bringing in new features and changes to the popular apps.
The Google Maps update brings faster access to navigation, complete with route and traffic overview, Tips and Tricks section in the side menu, Arabic and Hebrew support and other bug fixes.
Now, when one searches for a location and taps on the navigation option, the Google Maps for iOS app also displays a small snapshot of the first recommended route along with others. The updated app can be downloaded via the iTunes App Store.
In August,
Google had started serving ads in the Google Maps app
. It had said that ads would appear at the bottom of the screen after a user performs a search. The ads include a title, ad text, and a link to get directions, and users can tap or swipe upward to see more information related to it.
Previously,
Google had updated its Maps app on iOS bringing a much cleaner interface
, features like traffic an incident updates and a new 'Explore' feature enabling users to browse and discover popular local places to eat, drink, shop, play and sleep.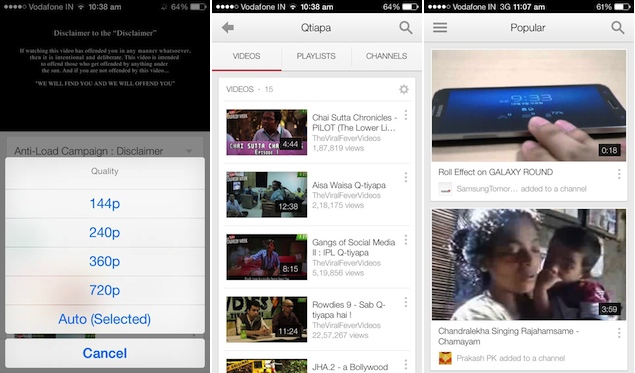 Google has also updated the YouTube app for iOS. The popular video streaming service app now allows users to choose the quality of the video when the device is connected to a Wi-Fi network. The option was not available on the app, previously. The update also brings better compatibility for iOS 7 and some accessibility improvements.
The new YouTube app for iOS now offers the option to choose the quality of the video across Auto, 720p, 360p and other quality settings depending on the video.
YouTube had previously updated its iOS and Android apps
, bringing the ability to explore other parts of the app while playing a video, watch videos in playlists back-to-back and new features for using the app with connected devices.
What's New in Version Google Maps version 2.3.4
* Faster access to navigation, complete with route and traffic overview
* Tips and Tricks available in the side menu
* Arabic and Hebrew now supported, including voice guidance in navigation, where available
* Bug fixes
What's New in YouTube version 2.2.0
* Choose your video quality while on Wi-Fi
* Accessibility improvements
* iOS 7 compatibility improvements