After standalone Google Sheets, Docs, and Slide, the company has now introduced a pdf viewer app for Android devices.
The Google PDF Viewer is primarily meant for use in the context of the Android for Work Program, says Google, but all devices with Android 4.0 and higher OS can install it from Google Play.
While the Google Drive app integrated pdf viewing feature remains the same as earlier, this standalone Google PDF Viewer app can be used for the same capabilities such as to view, print, search and copy text from pdf documents.
Meanwhile, Google has also started updating the Google Drive app for Android to version 2.2 with drag and drop capability, and tweaked navigation menu design.
The updated Google Drive app in India on Wednesday doesn't include the new feature and design change. Android Police has got the app update in their region and the Google-signed apk for impatient users to sideload.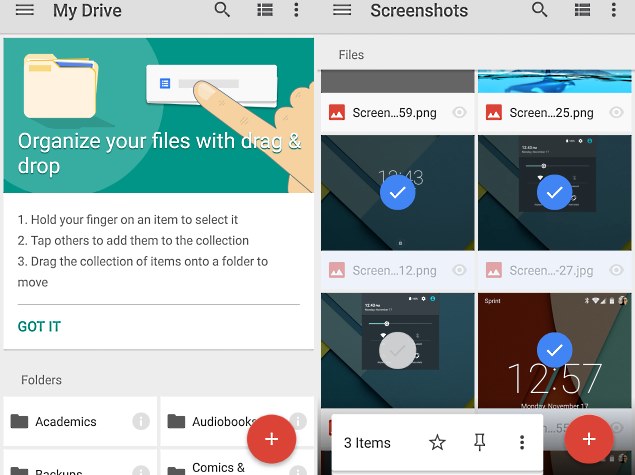 According to the report, users can simply hold down on a file or folder, and a little bubble will appear at the bottom of the screen showing selected number of files. There can be more added by simply tapping and then bubble can be dragged to the desired location.
For design change in the navigation menu, the Google Drive user image now extends over the top status bar, with the status bar becoming transparent when the menu is pulled out, making icons appear above the user's image.
Not just Google Drive, company has also updated its Hangouts and Google Play Store apps with new features and tweaks. The Hangouts app will roll out traditionally, we expect it to be made available on Google Play by this weekend, but the Google Play Store app update will roll out to individual accounts.
With Hangouts app update from version 2.5 to version 3.0 (via Android Police), Google has updated the contact card, which can now reportedly pull profile images, photos, recent interactions, and other data from Google+.
Other changes are reported to include repositioned snooze notifications option, which has been moved up to the top of the navigation drawer and notification popup appears material-themed instead of holo. Also spotted are a volume bug fix and a new pop-up profile view option that appears after long pressing upon a message. Once again, impatient users wanting the update can sideload the Google-signed apk via Android Police.
Coming to Google Play update (version 5.3.5), one small change that was teased by Google's Kirill Grouchnikov on Google+ is also rolling out. In Landscape mode, Google Play content has been slightly re-sized so that it doesn't reach the edge, and it is more compact visually. Other visual change tipped by Android Police suggests that the action bar automatically hides while scrolled down.
The updated Google Play is also said to remove down-swipe/ flick to exit the "What's New" section, instead requiring the back button or the cross sign on top to be pressed to exit.
The two functional changes in Settings are new controls that show notifications when app updates are available and notify when apps are automatically updated. Earlier there was single option to enable or disable all notifications. Further digging in to the new Google Play v5.3.5, Android Police found that Google has also included option to update all apps at once from the notification itself within the app's code. This may or may not roll out with the update. Users unwilling to wait for the update to roll out to them can sideload the Google-signed apk file.