Google has
extended
its Google Play Books service to the Indian market. Users will be able to download ebooks from a
collection
of 4 million titles. The ebook store has been made live on the web version of Google Play as well as on the mobile version. Users can install the Play Books app on their Android or iOS mobile device or to download, read and manage the ebooks they've purchased. They can also read books on third party ereader apps by
transferring
them from their computers using the Adobe Digital Editions Desktop Reader.
Users can also preview some books on their computer or phone before buying them.
Books are stored on the cloud so users will need Internet connectivity to access them, however, the Play Books reader apps remember the page of the book where the reader left, the last time he was reading.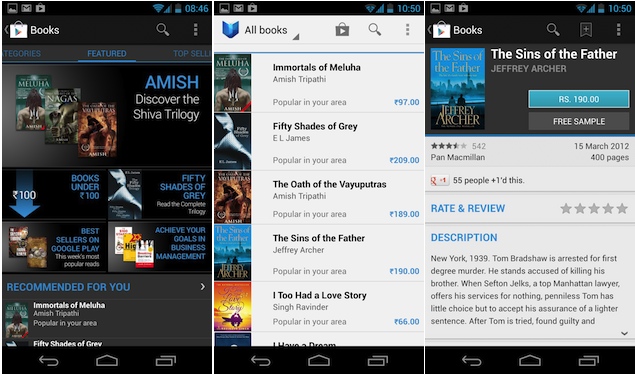 Google has also customised the store keeping in mind the Indian market, and has added books from Indian authors like Amish Tripathi, Devdutt Pattanaik, and Khushwant Singh, among others.
The move comes almost six months after Amazon
launched
the Kindle Store in India. Indian e-commerce major, Flipkart had also started offering ebooks, last year.
Pricing wise, we found Google Play Books pricier than the other two. For instance, Amish Tripathi's The Oath of The Vayuputras is available for Rs. 189 on Google Play Books, while the same ebook is priced at Rs. 175 on the Flyte store and Rs. 178 on the Kindle Store. We also found some popular titles missing on the Google Play Books store including the Steve Jobs biography by Walter Isaacson.

It's worth pointing out that Google has still not enabled Music and Movie downloads on the Indian Play Store.