The Google Hangouts messaging app for Android (and its various desktop interfaces) is said to have integrated Google Voice services, letting users chat via voice SMS and send voice mails. The changes are reportedly being made to the back-end, and users will not have to download an update.
Notably, the Google Hangouts app, which links both the text SMS and the Google Talk service, now delivers a notification about the integration via a pop-up window in the app's conversation list, giving an option to 'Migrate Google Voice to Hangouts.'
Android Police tested the feature and faced few bugs while using it on the Hangouts app for Android. While the sent voice message appeared correctly under the Hangouts app with a 'via GV' written below the message, the reply by users showed 'Sending' written at bottom, even after receiving it.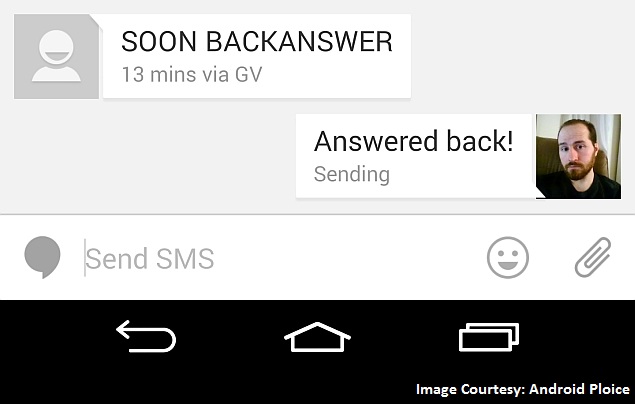 The website states that users might also not be able to choose a number to use for replying the voice messages. In addition, the Voice app would not receive any messages once the user turns on voice integration in Google Hangouts. The Google Voice website has been also updated and now shows a notice saying "Opted in receiving SMS and Voicemail in Hangouts."
As for the Voice Chrome extension, the users would be able to send SMSs from the service but would not be receiving any replies.
The Google Voice integration in Hangouts is not visible in all regions as of now, and Google may just be testing the service with limited users.
Google in April updated its Hangout app to version 2.1. The update added the much needed 'merged conversations' feature where SMS and Hangouts conversations with the same recipient are combined into a single conversation feed. Users can control whether they want to send a message via Hangouts or SMS with the flip of a switch. They can also merge and unmerge conversations at will.
Catch the latest from the Consumer Electronics Show on Gadgets 360, at our CES 2022 hub.
Related Stories